Stripe, Shopify Join Companies Taking Action Against Trump Campaign, Organization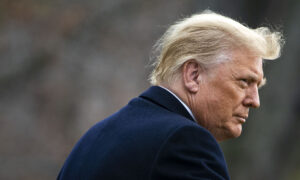 Stripe and Shopify have joined the group of companies that have taken action against President Donald Trump, his campaign, and his business.
Stripe, a payment processing company, told news outlets that it won't process payments for Trump's campaign because of the Jan. 6 U.S. Capitol breach.
According to Stripe's website, it doesn't allow certain groups of businesses to use its services. That includes any business that "engages in, encourages, promotes, or celebrates unlawful violence or physical harm to persons or property."
Shopify, meanwhile, took down online stores for both the Trump Organization and Trump's campaign.
"Shopify does not tolerate actions that incite violence," a Shopify spokesperson said in a statement to outlets. "Based on recent events, we have determined that the actions by President Donald J. Trump violate our Acceptable Use Policy, which prohibits promotion or support of organizations, platforms, or people that threaten or condone violence to further a cause. As a result, we have terminated stores affiliated with President Trump."
The Trump campaign has not responded to requests for comment.
Jason Miller, a Trump campaign adviser, said in a tweet on Sunday: "75 million Americans voted for President Trump. Aside from their votes, their pocketbooks are their most powerful means of communication. We don't have to spend our money with any companies participating in cancel culture. Corporate America is about to learn this the hard way."
In all, 12 companies or services have taken action against Trump and his supporters following the Capitol breach.
Twitter permanently banned Trump and axed one of his campaign's accounts, while Facebook banned the president until at least Jan. 20. Snapchat and Twitch disabled the president's accounts. Instagram banned Trump. YouTube is taking heightened action against Trump. Pinterest and TikTok are limiting hashtags related to Trump. Discord and Reddit banned Trump supporters.
Additionally, Apple, Google, and Amazon removed the social media platform Parler from online stores and servers. Conservatives had flocked to Parler after a wave of bans on Twitter and other websites.
View the Latest Federal News on the Federal Inquirer.