Queensland Pledges $2 Billion for Solar, Wind and Hydrogen Projects
Queensland (QLD) Premier Annastacia Palaszczuk has announced $2 (US$1.5) billion will be spent on energy projects as part of the new Queensland Renewable Energy and Hydrogen Jobs Fund.
The investment is expanding a previous $500 million Queensland Renewable Energy Fund and will go towards emissions reduction projects—part of a plan to generate 50 percent of its energy from renewable sources by 2030 and achieve net-zero by 2050.
"I truly believe that there is no other place in the world as well positioned as Queensland to lead on hydrogen, critical energy minerals and renewables manufacturing," Palaszczuk said in a statement.
Palaszczuk said the investment would include the development of QLD's hydrogen infrastructure to reduce emissions in the transport sector—as well as export the state's energy by producing hydrogen via renewable energy, which can then be shipped globally.
The QLD Government had announced this week that it had secured the site for a proposed 3 gigawatt hydrogen export facility, partnering with Japan for its development and potentially supporting up to 5,000 jobs.
The fund will also help develop wind and solar farm projects, along with supporting state-owned businesses in expanding their ownership of renewable energy generation and battery storage.
Crucially, however, Palaszczuk emphasised that part of the expenditure would support local jobs through domestic mining and the manufacturing of wind turbines, solar panels, and batteries.
Currently, in Australia, the majority of wind turbines and solar panels are imported from overseas, most notably China, with data released earlier this year revealing that close to 90 percent of Australia's solar panels were made and imported from China.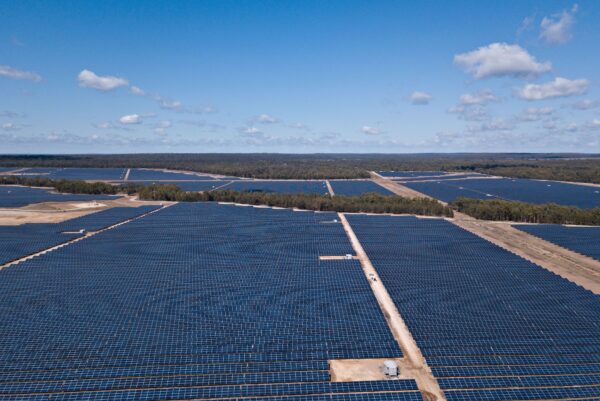 "That means not just mining the minerals for batteries and renewables in Queensland—it means processing the minerals and making batteries and renewables here as well," Palaszczuk said.
"I want to see hydrogen electrolysers built locally and local assembly of wind turbines and solar panels because that means local jobs."
Queensland holds a multitude of finite, non-renewable mineral reserves required in the production of various emission-reduction technologies.
This includes cobalt, copper, scandium, and nickel for electric vehicles; vanadium and alumina for batteries; bauxite, aluminium, and high purity quartz for solar panels.
Palaszczuk said that $9.9 billion had already seen her government boost renewable energy generation from 7 percent to 20 percent, creating over 5,100 megawatts of power generation, more than forty wind and solar farms, and 7,000 construction jobs.
Queensland's energy grid had previously come under major strain following a fire at one of the state's coal-fired power stations, which resulted in power outages that affected 400,000 homes.
The grid's energy requirements were reinstated after gas-fired power stations in South Australia were ramped up to make up for the energy shortfall.