PUSHBACK: NFL Star Refuses To Share Vaccine Status — "I Think That's HIPAA"
Star NFL Quarterback Dak Prescott refused to tell a reporter whether or not he was vaccinated during a news conference.
Prescott said, "I don't necessarily think that's exactly important…I think that's HIPAA."
Dallas Cowboys QB Dak Prescott on whether or not he is vaccinated: "I don't necessarily think that's exactly important … I think that's HIPAA."

(It is not HIPAA, which prohibits health professionals from revealing your medical records.) pic.twitter.com/TgKajt4eng

— The Recount (@therecount) July 23, 2021
TRENDING: LIVE STREAM VIDEO: President Trump Speaks at TPUSA's "Rally to Protect Our Elections" in Phoenix, AZ – 6 PM ET …More: 200,000 Watching Live on RSBN
Dallas Cowboys quarterback Dak Prescott on Friday declined to disclose his vaccine status, saying doing so violates his privacy.

Prescott made the comment in a news conference when a reporter noted that running back Ezekiel Elliott said he had been vaccinated.

"I don't necessarily think that's exactly important. I think that's HIPAA," Prescott said when asked about his own vaccination status.
This comes after the NFL laid out strict rules for teams with players that are unvaccinated:
The NFL just informed clubs that if a game cannot be rescheduled during the 18-week season in 2021 due to a COVID outbreak among unvaccinated players, the team with the outbreak will FORFEIT and be credited with a loss for playoff seeding, per sources.

Massive implications.

— Tom Pelissero (@TomPelissero) July 22, 2021
Here is the memo: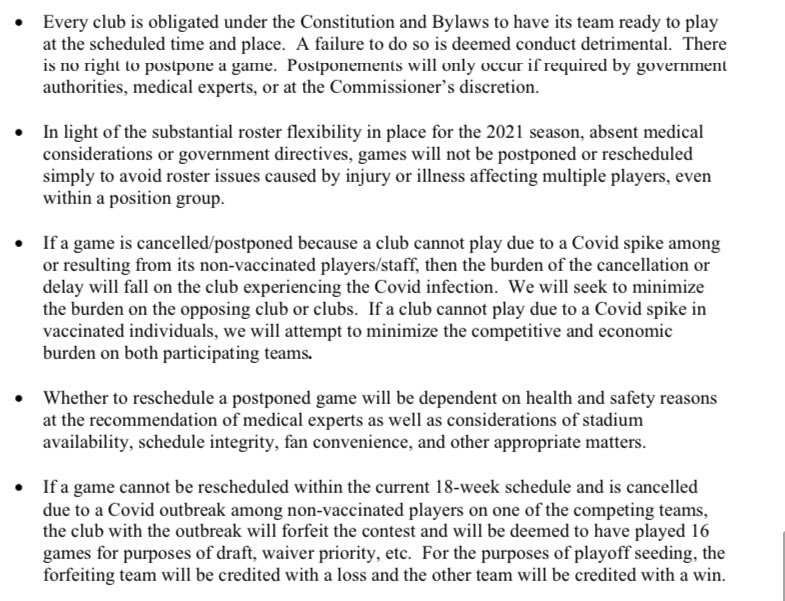 NFL Star DeAndre Hopkins came out even more forcefully against the NFL and their vaccine policies:
NFL star DeAndre Hopkins suggested in a now-deleted tweet that his playing career is in jeopardy after the league announced new COVID-19 policies.

"Never thought I would say this. But being put in a position to hurt my team because I don't want to partake in the vaccine is making me question my future in the NFL," Hopkins, a receiver for the Arizona Cardinals, wrote in the tweet.