New Zealander Asks PM, Foreign Minister, Others to Pressure Beijing for Release of His Father
A Chinese refugee who has been taken in by New Zealand has written to New Zealand's prime minister, foreign minister, and others, asking for their help in pressuring Beijing to immediately release of his father, a human rights activist who remains detained in his homeland China.
Xing Jian, a new permanent residence in Wellington, New Zealand, wrote to 110 New Zealand MPs, including Prime Minister Jacinda Ardern and Foreign Minister Nanaia Mahuta, on June 29, urging them to request that Beijing unconditionally release his father, Xing Wangli. He also urged them to keep voicing their concerns about China's abysmal human rights record under Chinese Communist Party rule.
On July 5, Xing Jian told The Epoch Times that his father is being held by Chinese authorities on suspicion of libel. He is detained in the Xixian County Detention Center, Xinyang city, in central China's Henan province.
What led to the arrest, Xing revealed, was his parents' visit on April 20 to Chinese human rights lawyer Jiang Tianyong, who has been under house arrest for more than two years at Xinyang city's Lingshan town in Luoshan county. Jiang is viewed as a sensitive figure by the communist authorities for his legal assistance to vulnerable groups.
Following their visit, three days later, on the morning of April 23, the couple were tricked by local officials into going to the village government of Caoyuan in Huaihe sub-district under the pretext of addressing their years-long complaints.
There, Xing's parents met with Huaihe Police Station director Zhang Zhenhua and deputy director Fang Tao; and Jiang Cheng, an official from Huaihe sub-district. The three admonished them for visiting the rights lawyer and warned them against any "unacceptable" behavior in the future.
Dissatisfied by the threats, Xing's father set out to travel to Beijing that very afternoon in the hopes of appealing his grievances to higher government agencies.
On April 27, Xing's father was intercepted by police officers from Qianmen Police Station in the name of checking personal ID after he posted letters to official agencies. With just one data search, police quickly learned that he had a history of petitioning. They then arrested and transferred him to the Beijing office of his home county government, and the latter sent him back to the Xixian Detention Center.
Xing's father was originally given 15 days of administrative detention, which was them extended to criminal detention.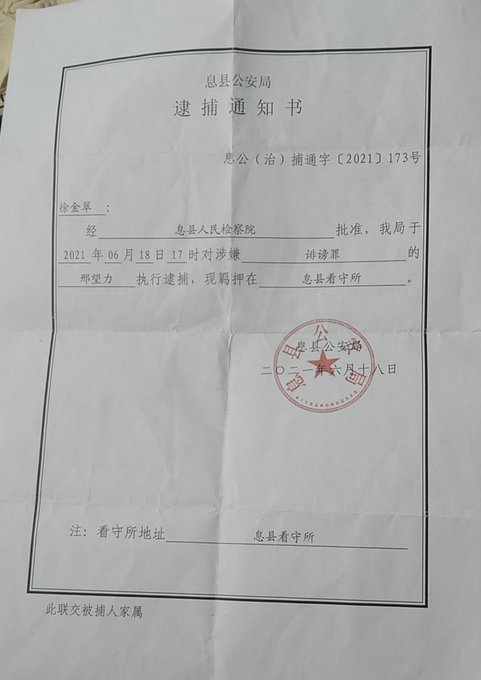 "Essentially, they [local police officers] are retaliating against my father for his continued rights efforts," Xing told The Epoch Times. "They hate him most because he's been so dedicated to protecting our family's legal rights, exposing local judicial corruption, and assisting his fellow activists."
Xing's father had been placed under detentions numerous times for his peaceful human rights activism.
In August 2016, while held in the Xixian county detention center, Xing Wangli was subjected to torture and suffered a comminuted fracture in the skull from severe beating. He narrowly escaped death after losing consciousness for more than 20 days and needing treatment in the ICU.
Speaking of his father, Xing said: "My father is not offender. Instead, he is a hero. Any rights activist advances the society."
A Reply
On June 30, Xing received a reply from Ardern's office saying that it had received his letter and had forwarded it to New Zealand's Ministry of Foreign Affairs for consideration.
Other MPs also replied to Xing, expressing their sympathy over his father's situation, adding that they had also forwarded his letter to the offices in charge of foreign affairs.
One reply expressed on behalf of MP Chlöe Swarbrick said that New Zealand's Green Party strongly condemns human rights abuses in China and has called for "meaningful action" by the New Zealand government.
Xing told The Epoch Times that he will also write to the Office of the United Nations High Commissioner for Human Rights to seek further support for his father's release.
Xing was born and brought up in China. Since childhood, he has witnessed and participated in his family's petitions, including in 2004, a tour to Beijing with his mother Xu Jincui and sister Xing Mei.
In 2015, disillusioned by the reality he faced in China, Xing began considering how he could seek political asylum in a foreign country. Fortunately, soon after, he was able to secure a passport. He then outwitted those in charge of daily surveillance over his family, and secretly left his hometown on a flight for Thailand where he applied for protection through the United Nations.
When authorities realized that Xing had fled the country, police of Laishui county in southeastern China's Jiangsu province declared him a runaway criminal who was wanted in a judicial corruption case. The local police flew to Bangkok and attempted to extradite him back to China.
With the help of Chinese dissidents and activists in Thailand, Xing finally got out of danger and was accepted as a U.N. convention refugee.
In January 2020, he landed in Auckland to begin his new life in New Zealand.
Xing told The Epoch Times that since arriving in New Zealand, he has been deeply concerned in witnessing the seeping influence of the Chinese Communist Party (CCP) and its communist ideologies into democratic institutions around the world.
"Communism does not benefit mankind; on the contrary, it poisons mankind," the survivor of the Chinese regime added.