Japanese Ambassador Praises Australia's Response to Beijing Aggression
Japanese Ambassador Shingo Yamagami has praised Australia's response to Beijing's economic coercion, and rejected claims that Japan was handling its China relationship better than Australia's.
Yamagami, in an address to the National Press Club in Canberra on July 21, spoke of how Japan-Australia ties had broadened over the past 15 years via trade, investment, as well as shared values and strategic interests.
He emphasised that Australia was "not walking alone" when it came to dealing with "coercion or the threat of force."
"These words embody Japan and Australia's determination to ensure our region is one where disputes are resolved peacefully, without coercion or the threat of force," he said.
"Indeed, Australia is not walking alone," he added. "Japan fully supports Australia's efforts to solve the ongoing trade disputes through dialogue, in accordance with international laws."
"I applaud the way Australia has faced up to tremendous pressures in a consistent, principled and resilient manner," he said. "Together, we must continue to pursue liberalisation and the establishment of fair, transparent rules."
When asked whether Japan was handling its relationship with China better than Australia, his response was, "My simple answer is—no way."
"Australia, Japan, United States, like-minded countries have to get together, join forces to address these challenges caused by the rise of this emerging power," he added.
"So, don't worry. You are doing an excellent job. We are in the same boat, and we should work together."
Yamagami also said shipping routes through the South and East China Sea needed to be safeguarded.
He called for more military exercises between the nations and said negotiations for the Reciprocal Access Agreement were at their "final stage," which will increase interoperability between forces and allow access between militaries.
The ambassador's remarks come as Labor Party ministers—who previously backed the government's response to Beijing—have taken to criticising Prime Minister Scott Morrison.
Shadow Foreign Minister Spokesperson Penny Wong in June said the Morrison government's approach was "frenzied, afraid, and lacking context."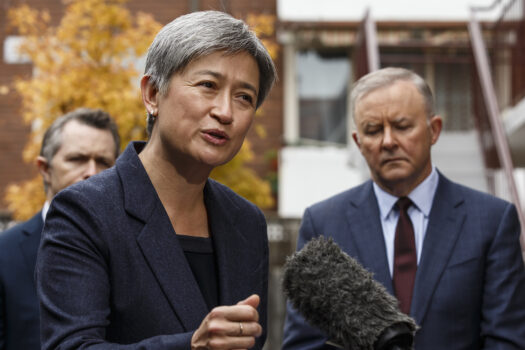 "This has been made so much worse—by a prime minister who is only interested in any issue to the extent it offers him the political value," she said.
Western Australia Premier Mark McGowan said the prime minister should not call on Beijing to reengage in dialogue with Australia (which has been largely frozen over the past year) or advocate for reform of the World Trade Organisation.
"I don't understand why he would be doing that," McGowan told 6PR radio. "You know, countries act in their own interests."
"We have a massive trade surplus with China, which basically generates hundreds of thousands of jobs for West Australians (WA)—and we are the beneficiaries of that," he added. "So, I don't understand why we would say the system isn't working for us when we are in that position."
China is the largest export market for the resource-dependent WA economy.
Bilateral ties between Australia and China plummeted over the course of 2020 following calls by Foreign Minister Marise Payne for an independent investigation into the origins of COVID-19.
Beijing's response was to instigate a series of bans, suspensions, or implement tariffs on Australian exports to China including coal, beef, barley, lobster, timber, lamb, and cotton.
Australia has taken two matters to the World Trade Organisation for a resolution, including Chinese tariffs on barley and wine.