Japanese Ambassador Praises Australia's Response to Beijing Aggression
Japanese Ambassador Shingo Yamagami has praised Australia's response to Beijing's economic coercion, and rejected claims that Japan was handling its China relationship better than Australia's.
Yamagami, in an address to the National Press Club in Canberra on July 21, spoke of how Japan-Australia ties had broadened over the past 15 years via trade, investment, as well as shared values and strategic interests.
He emphasised that Australia was "not walking alone" when it came to dealing with "coercion or the threat of force."
"These words embody Japan and Australia's determination to ensure our region is one where disputes are resolved peacefully, without coercion or the threat of force," he said.
"Indeed, Australia is not walking alone," he added. "Japan fully supports Australia's efforts to solve the ongoing trade disputes through dialogue, in accordance with international laws."
"I applaud the way Australia has faced up to tremendous pressures in a consistent, principled and resilient manner," he said. "Together, we must continue to pursue liberalisation and the establishment of fair, transparent rules."
When asked whether Japan was handling its relationship with China better than Australia, his response was, "My simple answer is—no way."
"Australia, Japan, United States, like-minded countries have to get together, join forces to address these challenges caused by the rise of this emerging power," he added.
"So, don't worry. You are doing an excellent job. We are in the same boat, and we should work together."
Yamagami also said shipping routes through the South and East China Sea needed to be safeguarded.
He called for more military exercises between the nations and said negotiations for the Reciprocal Access Agreement were at their "final stage," which will increase interoperability between forces and allow access between militaries.
The ambassador's remarks come as Labor Party ministers—who previously backed the government's response to Beijing—have taken to criticising Prime Minister Scott Morrison.
Shadow Foreign Minister Spokesperson Penny Wong in June said the Morrison government's approach was "frenzied, afraid, and lacking context."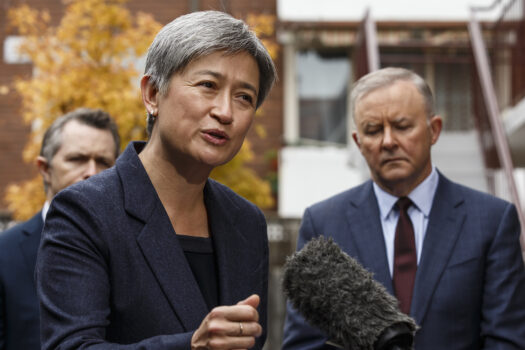 "This has been made so much worse—by a prime minister who is only interested in any issue to the extent it offers him the political value," she said.
Western Australia Premier Mark McGowan said the prime minister should not call on Beijing to reengage in dialogue with Australia (which has been largely frozen over the past year) or advocate for reform of the World Trade Organisation.
"I don't understand why he would be doing that," McGowan told 6PR radio. "You know, countries act in their own interests."
"We have a massive trade surplus with China, which basically generates hundreds of thousands of jobs for West Australians (WA)—and we are the beneficiaries of that," he added. "So, I don't understand why we would say the system isn't working for us when we are in that position."
China is the largest export market for the resource-dependent WA economy.
Bilateral ties between Australia and China plummeted over the course of 2020 following calls by Foreign Minister Marise Payne for an independent investigation into the origins of COVID-19.
Beijing's response was to instigate a series of bans, suspensions, or implement tariffs on Australian exports to China including coal, beef, barley, lobster, timber, lamb, and cotton.
Australia has taken two matters to the World Trade Organisation for a resolution, including Chinese tariffs on barley and wine.
Absent Help From Authorities, Locals Take Relief Work Into Their Own Hands in Flood-Hit Central China
Two days and two nights. That was how long it took for more than 400 villagers in a flooded Chinese town to raise the walls of a dam to protect their homes from rising waters. It took just a few hours for officials to tear it down.
When the villagers protested, the authorities pepper-sprayed them.
With the fortifications dismantled, the flood currents swept the village unimpeded, submerging crops in water about 3.3 feet deep while causing a power and water outage.
Villager Wang Yan, using a pseudonym, cried as she recounted to The Epoch Times the desperate sight in her hometown of Qimen in Henan, the province in central China now inundated by floods.
"What I told you are all facts, but this content can't be posted on Douyin," she said in an interview, referring to the Chinese name of the video-sharing app TikTok.
Authorities have also been releasing additional water from upstream, according to Wang and fellow villager Li Liang, also using a pseudonym, who described the village's current state as a lone island.
"We villagers' only hope is for the upstream to discharge less water and not to act too fast, so that the downstream has time to drain some water away," Wang said, noting that otherwise, "we are doomed."
To date, the flooding has affected about 12.9 million people, or roughly one in nine people in the province, and destroyed around 267,000 acres of crops, according to official data. The authorities' disaster response, or lack thereof, has compounded their woes, according to Wang and many others.
Donation Challenges
The government-backed Red Cross Society of China, not affiliated with the International Committee of the Red Cross, has also faced accusations that it lacks transparency.
Qiu Kai, a businessman in Zhengzhou, capital and the largest city in Henan, initially saw that Red Cross had chosen to send flood relief packages on behalf of a coalition of businesses. After talking with a manager at the Henan Red Cross, he donated 1 million yuan ($154,254) under the agreement that he would have control over how the money was spent. But after the money was sent, all he received was a receipt from the organization.
Frustrated, he asked the charity's manager for a refund, and was told they were "powerless" and "can't handle it." "Perhaps next year," the person told Qiu. He canceled the donation account in frustration.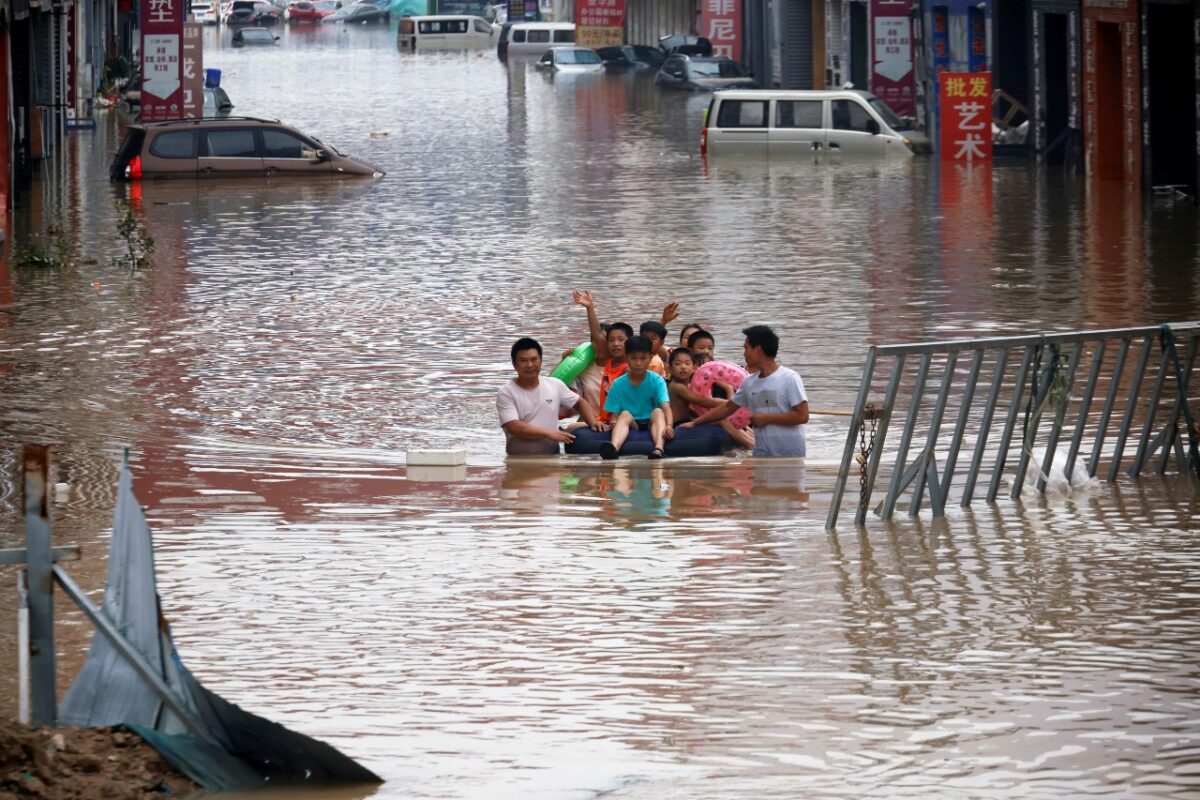 The Chinese Red Cross has been plagued with credibility issues for years. It has struggled to win back trust ever since 2008, when it mismanaged donation funds destined for the survivors of an 8.0-magnitude earthquake in Sichuan Province of southeastern China.
Qiu has purchased boats, water pumps, life jackets, buoys, and ropes totaling more than 50,000 yuan ($7,712), which he had planned to donate to local authorities, he said. But he's been turned away each time.
"No one was there to receive the goods," he told The Epoch Times. "There was no one to receive the items nor sign their signature."
Qiu spent seven hours at one emergency management center alone.
He ended up calling the city's mayor and other officials and was rebuffed. One of the officials told him that the city was "relatively stable now and you can send these to the places that need them more."
"I talked until I was exhausted," Qiu said.
Much of the relief packages are now sitting in a warehouse.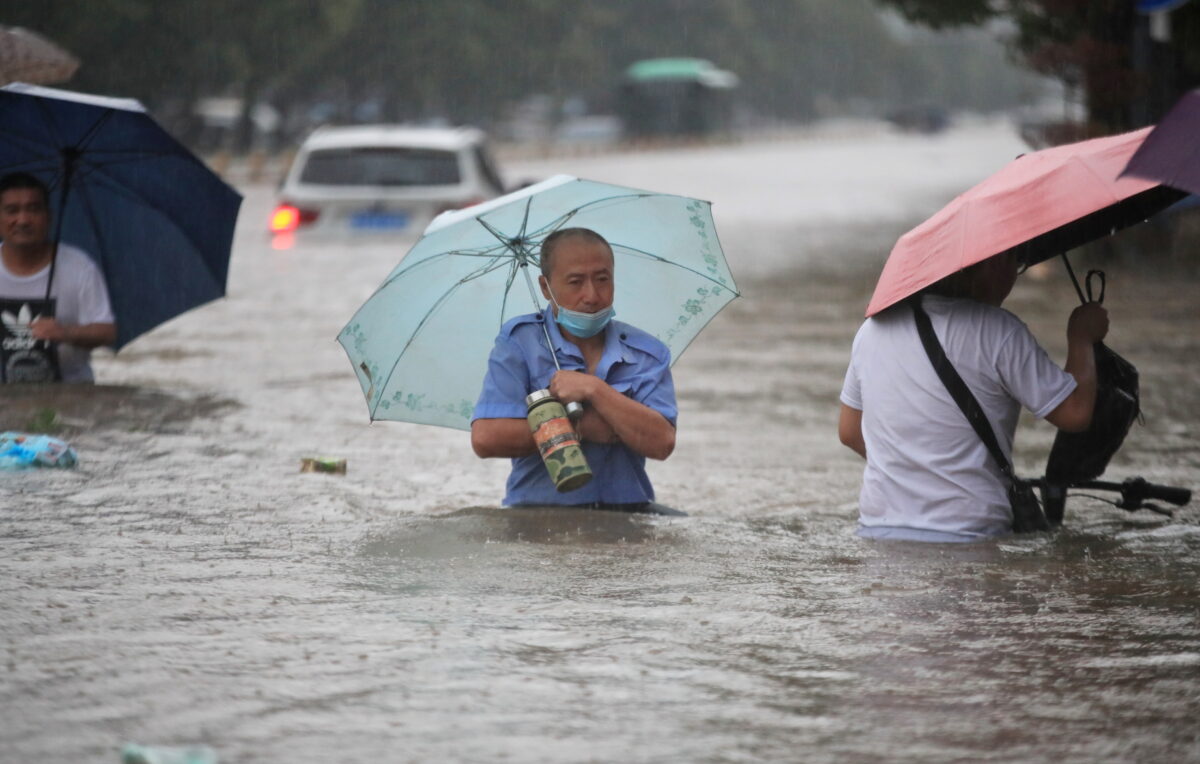 Help From Beijing 'Nowhere in sight'
Dozens of civilian-initiated rescue teams have arrived in the province to offer help.
Zhang Ye, also using a pseudonym, is serving as one member of a rescue team from the neighboring province Hunan. Zhang said that they go to every flood-ravaged home to see if there's anyone inside. They then take the residents to a safer area where local volunteers take over.
The authorities were "nowhere in sight" as they carried out rescue work, he told The Epoch Times.
Villagers have greeted them with enthusiasm, Zhang said, noting that local children have acted as their guide.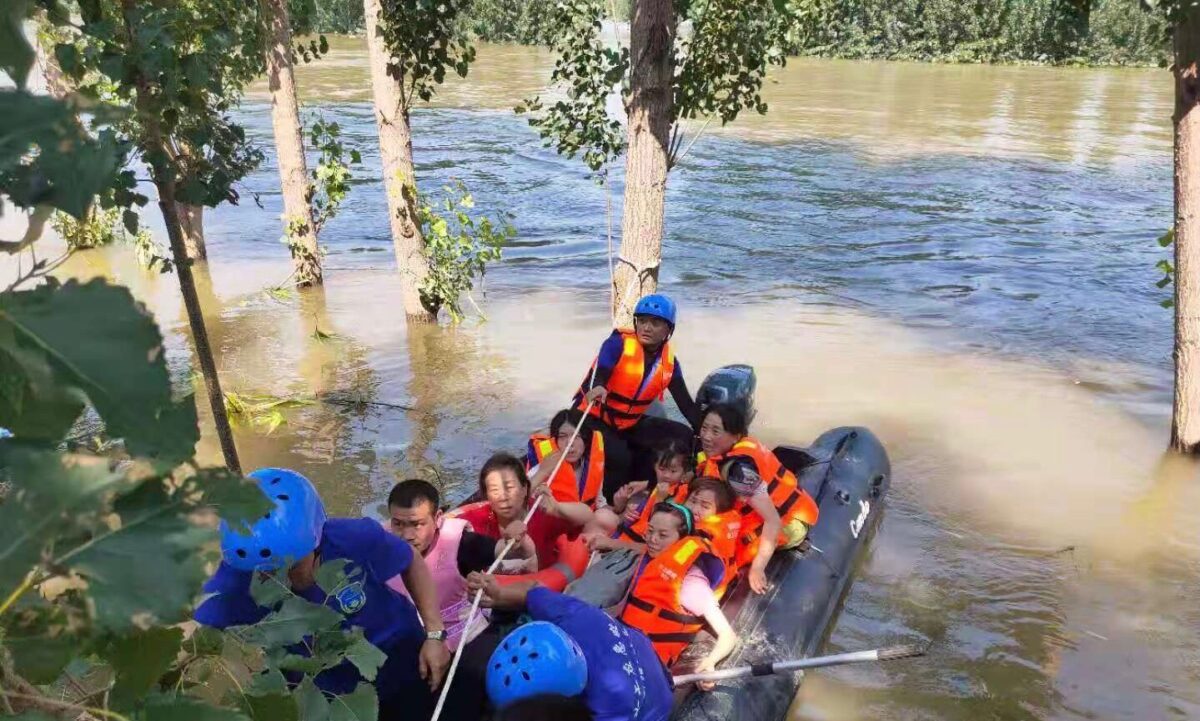 With the villagers' help, his team rescued around 236 stranded people in one village on July 25—some from on top of their roofs.
"People give us directions, we just run to wherever is needed," Zhang said.
On Saturday night, Zhang's group had to evacuate from their lodging organized by local residents because of the incoming floodwater.
They moved to a gas station located at the highest point of the village. The local residents sent them fresh eggs and blankets.
"The villagers didn't want us to leave, and we told them we won't," Zhang recalled.
They fell into a short sleep. When they got up at around 4 a.m., everyone had a blanket over them—the work of the appreciative villagers.
It showed how "indispensable" their labor was, Zhang said, noting that they were just "doing what they can."
Gu Xiaohua contributed to this report.
Biden: American Combat Troops Will Leave Iraq This Year
President Joe Biden said on July 26 that American combat troops will leave Iraq sometime in 2021, coming weeks after troops departed Afghanistan, although he added that some U.S. personnel would continue to work with Iraqi security forces in their fight against the ISIS terrorist group.
"We are not going to be, by the end of the year, in a combat mission," Biden told Iraqi Prime Minister Mustafa al-Kadhimi during a White House meeting. American forces, however, would "be available to continue to train, to assist, to help and to deal with ISIS."
The president added that the United States is still committed to fighting terrorism in the region.
"We're also committed to our security cooperation," Biden said. Our shared fight against ISIS is critical for the stability of the region and our counterterrorism operation will continue, even as we shift to this new phase we're going to be talking about."
The U.S. military has approximately 2,500 American troops in Iraq as of now. Earlier this year, the Trump administration confirmed that it drew down the number of forces to 2,500 in Iraq.
During a press briefing on July 26, White House press secretary Jen Psaki declined to give details on how many would remain in the country by the end of this year in advisory or training roles.
"We feel this is a natural and next step in these ongoing strategic dialogues and we are moving to a phase not where we are ending our partnership, we are maintaining a presence in Iraq with a different mission," Psaki said. "This is a shift in mission, it is not a removal of our partnership or our presence or our close engagement with Iraqi leaders."
The change in Iraq comes as the United States nearly finished its withdrawal from Afghanistan, despite some experts expressing fears that terrorism could flare again without any military presence. Meanwhile, some officials have warned that Taliban forces have made significant advances in recent weeks as U.S. troops pull out of the country.
During an interview with NPR on July 23, CIA Director William Burns acknowledged the Taliban currently is in the "strongest military position that they've been in since 2001." Afghan security forces who were trained by the United States have the capability to fend them off, he argued.
"The big question it seems to me and to all of my colleagues at CIA and across the intelligence community is whether or not those capabilities can be exercised with the kind of political willpower and unity of leadership that's absolutely essential to resist the Taliban," Burns told NPR.
In 2003, the military under the George W. Bush administration launched an operation in Iraq to topple then-leader Saddam Hussein but remained due to the rise of ISIS, which took over swaths of Syria and Iraq in the midst of the Syrian civil war starting in 2011. All combat operations were ceased in 2010 and most troops left in 2011 but a number of soldiers returned in 2014 to deal with the terrorist group.
Southern Europe Battles Wildfires as North Cleans up After Floods
ATHENS—Wildfires burned in regions across southern Europe on Monday, fuelled by hot weather and strong winds, as some northern countries cleaned up after a weekend of torrential rain and flooding.
In Greece, Prime Minister Kyriakos Mitsotakis said firefighters had battled around 50 fires during the past 24 hours and it was likely there would be more with meteorologists warning that a further heatwave was in prospect.
"I want to emphasize that August remains a difficult month," he said. "That is why it is important for all of us, all state services, to be on absolute alert until the firefighting period is formally over."
Fire service officials said negligence on farms and construction sites had been behind several incidents, many of which were in the southern Peloponnese region. No casualties were reported.
Conditions in southern Europe were in sharp contrast to the torrential rainstorms that lashed northern countries from Austria to Britain following the catastrophic flooding in Germany and neighbouring countries last week.
On the Italian island of Sardinia, firefighting planes from France and Greece reinforced local aircraft battling blazes across the island where more than 4,000 hectares of forest were burnt and more than 350 people evacuated.
In Sicily, fires broke out near the western town of Erice.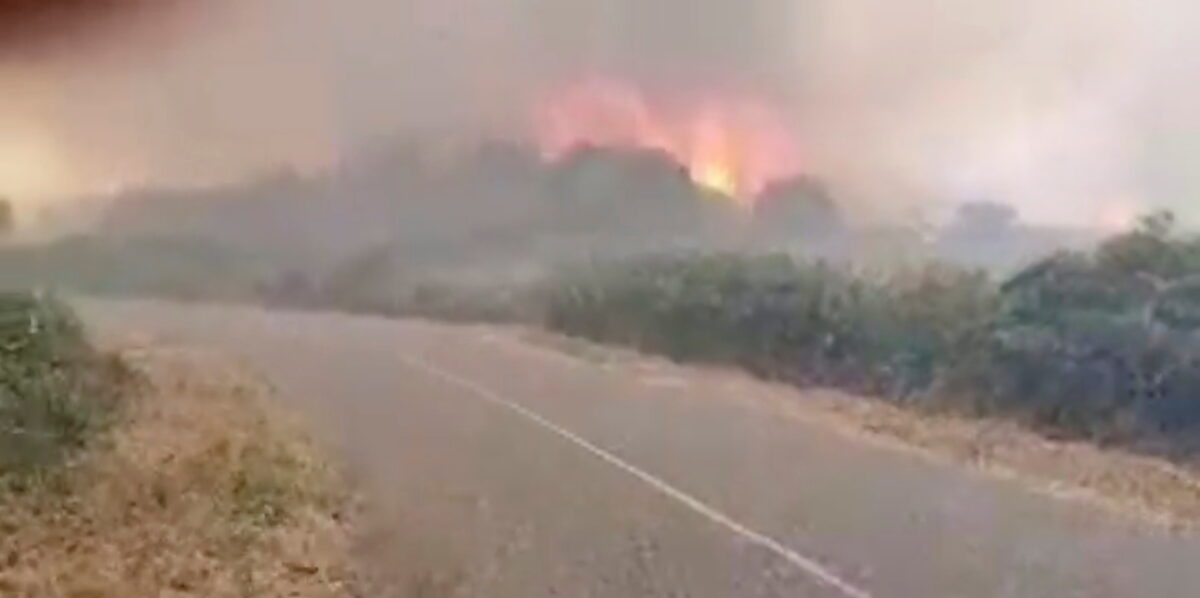 In Spain, the northeastern region of Catalonia saw more than 1,500 hectares destroyed near Santa Coloma de Queralt, forcing dozens to be evacuated, although the blazes were 90 percent stabilized on Monday, firefighters and authorities said.
In Lietor, in the central east region of Castilla-La Mancha, more than 2,500 hectares burned during the weekend before being brought under control, authorities said.
So far this year, wildfires have burned across 35,000 hectares in Spain, still some way off the 138,000 hectares burned in 2012, the worst year of the past decade.
By Emma Pinedo Gonzalez, Lefteris Papadimas, Angeliki Koutantou, and Emily Roe