Gov. Kemp Calls Out CEO Criticism of Georgia Elections Law, Urges 'Debate About the Merits'
Georgia Gov. Brian Kemp took aim at pushback from corporate leaders to the Peach State's new election integrity bill that he signed into law last week, saying that he welcomes the criticism as an opportunity to debate the merits of the measure.
"I'm glad to deal with it," Kemp told CNBC when asked about backlash from business leaders opposing SB 202, or the Election Integrity Act of 2021 (pdf), which some have praised for making elections more secure while others have denounced as voter suppression.
"If they want to have a debate about the merits and the facts of the bill, then we should do that," Kemp told the outlet.
"We have 159 counties in Georgia. One hundred and thirty-four of those counties under this legislation will be offering more hours of early voting, not less, so I would encourage these CEOs to look at these other states they're doing business in, and compare what the real facts are to Georgia, and I think their focus will probably need to be in other places and not here," he told CNBC.
SB 202 cleared both Georgia state legislative chambers with no Democratic backing, and was signed into law by Kemp on March 25, drawing both praise and condemnation, including lawsuits and statements from business leaders.
Republicans have argued that the election reform measures are necessary improvements to shore up integrity and build confidence in the state's elections. The reforms include requiring photo or state-approved identification to vote absentee by mail. They also mandate that secure drop boxes be placed inside early voting locations, with constant surveillance, and the law expands early voting across the state to address a key Democrat concern. The bill also shortens the election cycle for runoffs from nine weeks to four and requires a minimum of one week of early voting before Election Day.
After Kemp signed the bill into law last week, Delta issued a statement promoting parts of the law such as expanded weekend voting, but said "we understand concerns remain over other provisions … and there continues to be work ahead in this important effort."
Later, Delta chief executive Ed Bastian was more critical of the law in a memo sent Wednesday to employees.
"The entire rationale for this bill was based on a lie: that there was widespread voter fraud in Georgia in the 2020 elections. This is simply not true," Bastian wrote, alluding to former President Donald Trump's claims of voter fraud. "Unfortunately, that excuse is being used in states across the nation that are attempting to pass similar legislation to restrict voting rights."
Speaking later on CNBC, Coca-Cola chief executive James Quincey called the legislation a "step backward."
"It does not promote principles we have stood for in Georgia around broad access to voting, around voter convenience, about ensuring election integrity," he said. "This legislation is wrong and needs to be remedied."
Other business leaders joined the fray on Wednesday, with dozens of black business executives from around the country, including Merck chief executive Kenneth Frazier and former American Express chief executive Kenneth Chenault, releasing a joint letter in The New York Times urging corporate America to stand up forcefully to oppose laws that they allege amount to voter suppression.
"There is no middle ground here," Chenault said, according to the New York Times. "You either are for more people voting, or you want to suppress the vote."
Kemp insisted the law was being misrepresented and accused businesses of ignoring their role in its development.
"Throughout the legislative process, we spoke directly with Delta representatives numerous times," the governor said in a statement. "Today's statement … stands in stark contrast to our conversations with the company, ignores the content of the new law, and unfortunately continues to spread the same false attacks being repeated by partisan activists," Kemp added.
A lawsuit filed on March 28 accused the Georgia election law of racial discrimination and described it as a Republican voter suppression measure meant as a bulwark against demographic changes that favor Democratic candidates.
President Joe Biden has also weighed in, criticizing SB 202 as "a blatant attack on the Constitution and good conscience," adding, "What I'm worried about is how un-American this whole initiative is. It's sick, it's sick."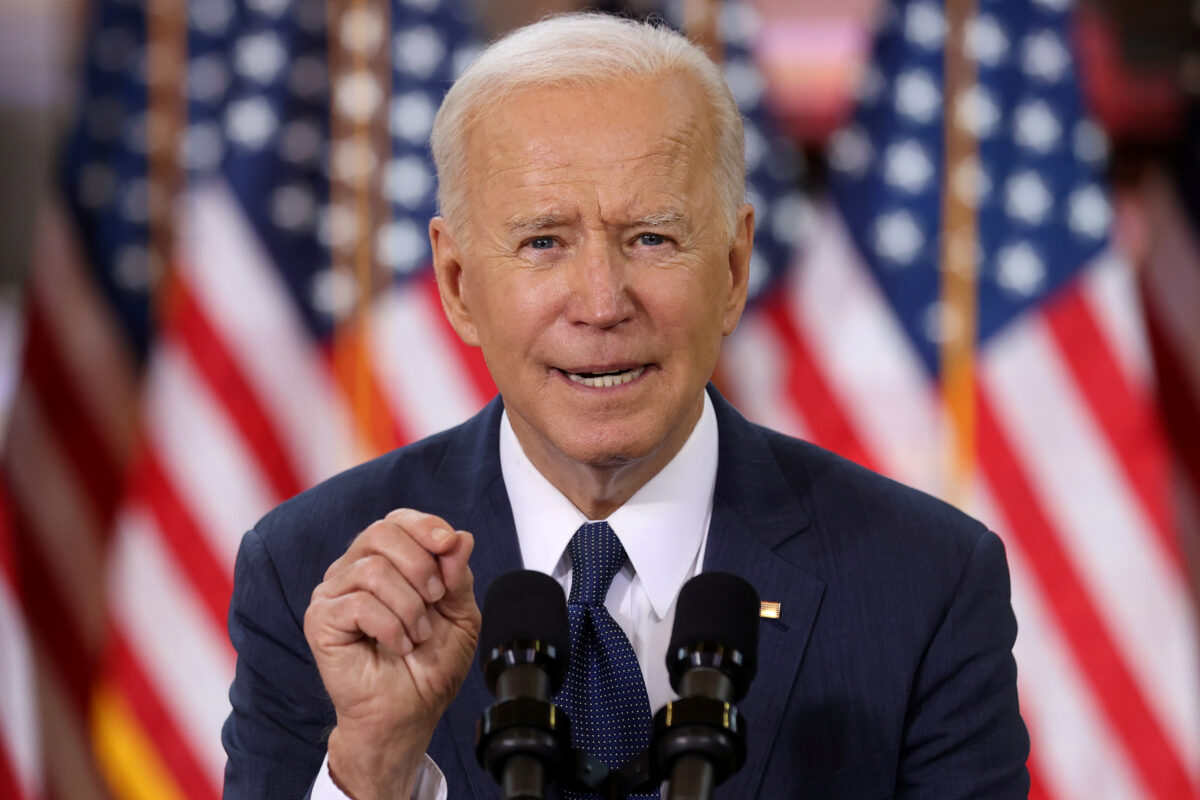 Kemp rejected Biden's characterization of the law, arguing that it seeks to improve the integrity of elections in the Peach State.
"It is obvious that neither President Biden nor his handlers have actually read SB 202, which I signed into law yesterday," Kemp said in a statement emailed to The Epoch Times. "This bill expands voting access, streamlines vote-counting procedures, and ensures election integrity."
Republicans insist the changes are needed to restore voters' confidence.
Georgia Secretary of State Brad Raffensperger has responded to the criticism over the new law, saying, "There's no rational argument against requiring state ID—provided for free to those who don't have a driver's license—for absentee ballots," according to a statement sent to media outlets.
Raffensperger dismissed voter suppression arguments, saying he implemented a version of the identification requirement during the November 2020 election, and that all absentee ballot requests that came through the state website were cross-referenced with a driver's license database or another record.
"The left said that photo ID for in-person voting would suppress votes. It didn't. Registration and turnout soared, hitting new records with each election cycle. Their cataclysmic predictions about the effects of this law are simply baseless. The next election will prove that, but I won't hold my breath waiting for the left and the media to admit they were wrong," he said.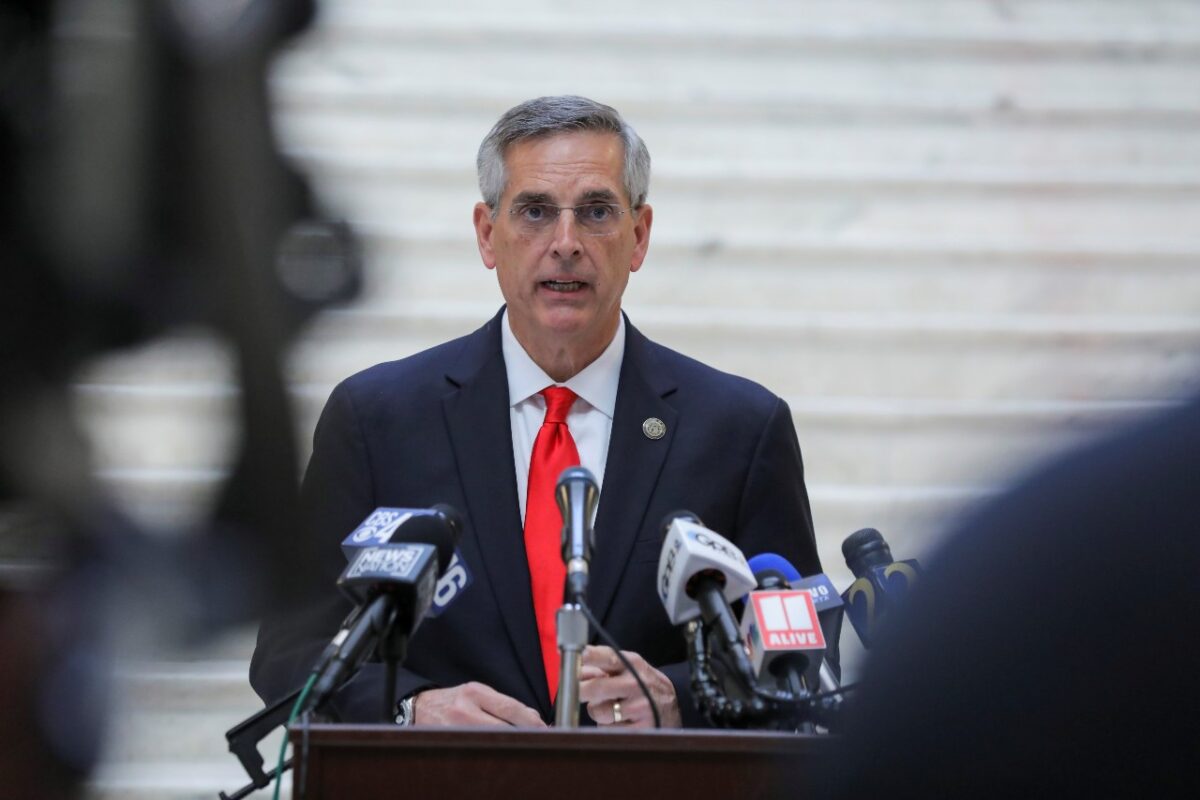 Besides filing several lawsuits seeking to overturn the Georgia law, advocates of less stringent voter laws have turned their focus to Washington, where Democrats are pushing a comprehensive federal overhaul of election law that could effectively override many changes being enacted in Georgia and considered elsewhere.
That legislative initiative, known as the For the People Act of 2021, or H.R. 1, passed the Democrat-controlled House on March 3 on a largely party-line vote of 220–210, with all Republicans voting against it as well as Rep. Bennie Thompson (D-Miss.).
Critics, chiefly conservatives and Republicans, oppose the bill on various grounds, including that it transfers authority over how elections are administered from states to the federal government and reduces measures meant to make elections more secure, such as eliminating the need to provide photo ID to obtain an absentee ballot.
The Associated Press contributed to this report.