EU Lists Rare Nerve Disorder as Side-Effect of J&J COVID-19 Vaccine
Vials labelled "COVID-19 Coronavirus Vaccine" and sryinge are seen in front of displayed Johnson & Johnson logo in this illustration taken, Feb. 9, 2021. (Dado Ruvic/Illustration/Reuters)
Europe's medicines regulator said on Thursday it had added a rare nerve-degenerating disorder, Guillain-Barré syndrome, as a possible rare side effect from Johnson & Johnson's COVID-19 vaccine after it reviewed 108 cases reported worldwide.
"After assessing the available data, PRAC considered that a causal relationship between COVID-19 vaccine Janssen and GBS is possible," the European Medicines Agency said, referring to its safety committee, PRAC.
By Pushkala Aripaka
Spanish Judge Seeks Tax Fraud Trial for Pop Singer Shakira
Colombian singer Shakira visits Tannourine Cedars Reserve, in Tannourine, Lebanon on July 13, 2018. (Jamal Saidi/File/Reuters)
MADRID—A Spanish judge has seen "sufficient evidence" for Colombian singer Shakira to face trial for tax fraud, a court document released on Thursday said.
Judge Marco Jesus Juberias has wrapped up a pre-trial investigation of allegations by prosecutors that the singer failed to pay up to 14.5 million euros ($17.2 million) in tax on income earned between 2012 and 2014. It is a preliminary step before a trial is set.
"The documents (…) annexed to the lawsuit are sufficient evidence of wrongdoing to continue with the proceedings," the judge said in the court document.
While prosecutors say Shakira was living in the region of Catalonia during those years, her representatives argue she did not live in Spain until 2015 and has met all of her tax obligations.
Shakira's representatives in Spain said in an emailed statement on Thursday that the court document was an "expected step in the process" and that the singer's legal team "remains confident and fully cooperative with the judiciary and will not comment further."
The 44-year-old singer and the FC Barcelona defender Gerard Pique have been together since 2011 and they have two children.
By Emma Pinedo
Italy Wins Rematch With US in Men's Olympic Water Polo
TOKYO—Francesco Di Fulvio and Italy won the 2019 world championship in men's water polo, establishing themselves as gold medal contenders for the Olympics. Then the coronavirus pandemic arrived.
A year after the Games were supposed to occur, Di Fulvio sees a wide-open competition in Tokyo.
"We are the same team. We do the same play, the same game," he said. "But now, in Tokyo 2020, maybe, here can win, in my opinion, six, seven teams. They improve their game. We did the same. So I think there will be nice games."
Italy played one of those nice games Thursday against the United States, rallying for a dramatic 12–11 victory. Di Fulvio scored five times as the Italians jumped over the Americans in Group A with five points after playing to a 6–6 draw against Greece on Tuesday.
Five years after Serbia won gold at the Rio de Janeiro Olympics as the reigning world champion, there is no superpower towering over the 12-country field in Tokyo. Just a ton of possibilities.
"I've never seen eight teams, nine teams strong that can win medals," Italy coach Alessandro Campagna said. "So every match is a fight, every match."
Campagna's team is certainly among those medal contenders. Italy is seeking its first Olympic title since 1992 and No. 4 overall. It won silver in 2012 and bronze in Rio.
The United States finished 10th in Brazil, but it picked up some momentum with a runner-up finish in this year's World League Super Final that included a 10–8 victory over Italy. It then won its first two games in the Olympics against Japan and South Africa.
Looking to strengthen its position for a possible berth in the quarterfinals, the U.S. scored the first four goals against Italy and led 11–9 with 5:22 left. But it couldn't hold on.
"I think that we should win the game," U.S. coach Dejan Udovicic said. "We got a few times to conclude the game and we didn't and they punished us."
Di Fulvio tied it at 11 with a penalty shot with 2:22 left, and Nicholas Presciutti got the game-winner when he converted a rebound with 1:40 to go. The United States had one last chance in the closing seconds, but turned it over.
"At the end we had the power, we had the concentration and we had the passion to wait for the right moment to go in front," Campagna said.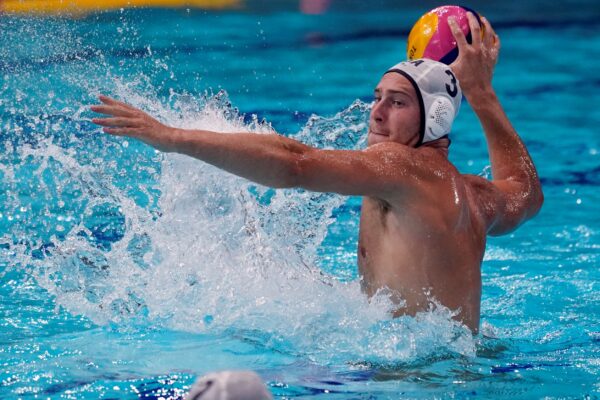 The United States still appears to be in a strong position to advance, but it closes group play with games against Hungary on Saturday and Greece on Monday.
"I think once you get to the quarterfinals, I think anybody can beat anybody," U.S. goaltender Drew Holland said. "There's lots of good teams and it's the Olympics and we're getting kind of to the nitty-gritty point. But again, build through the group play stage and be playing our best water polo for the crossover."
Croatia also got an important win, beating Montenegro 13–8 behind three goals from Loren Fatovic. Croatia, which won gold in 2012, was coming off an 11–8 loss to Australia on Tuesday.
Croatia faces Serbia on Saturday in a rematch of the 2016 Rio final.
"After our last game, against Australia, we analyzed our mistakes and we played a lot better today," Croatia goalkeeper Marko Bijac said. "We need to continue like this and try to be even better in our next match."
Hungary, Spain, Greece, and Serbia also won. Hungary routed winless South Africa 23–1, and Spain moved to 3–0 with a 16–4 victory over Kazakhstan. Greece beat Japan 10–9, and Serbia topped Australia 14–8 in the last game of the day.
By Jay Cohen
Sunisa Lee Takes Gold in Women's Gymnastics Final
TOKYO—An American finished atop the podium in the women's Olympic gymnastics all-around, just like always.
Sunisa Lee became the fifth straight American woman to claim the Olympic title on Thursday, edging Rebeca Andrade of Brazil in an entertaining and hotly contested final while defending champion Simone Biles watched from the stands.
Lee's total of 57.433 points was just enough to top Andrade, who earned the first gymnastics all-around medal by a Latin American athlete but missed out on gold when she stepped out of bounds twice during her floor routine. Russian gymnast Angelina Melnikova earned bronze two days after leading Russian Olympic Committee (ROC) to gold in the team final.
Lee and the Americans earned a silver in that event, one in which Biles withdrew after one rotation when she decided she was not mentally prepared to compete.
Biles opted to pull out of the all-around final, too, leading to the jarring sight of the gymnast considered the greatest of all-time watching the biggest meet in five years from the stands alongside teammates Grace McCallum, Jordan Chiles, and MyKayla Skinner.
The 24-year-old Biles' absence created an opportunity the 24 women who took the floor at the Ariake Gymnastics Centre probably didn't think possible when they landed in Tokyo earlier this month: a legitimate shot at the top of the podium. Biles had captured every major international competition since 2013 except the 2017 world championships, which came during the year she took off after her triumph in Rio de Janeiro five years ago.
Yet if Lee, Andrade, and the rest of the contenders were nervous, it hardly showed. Andrade's near-perfect Cheng vault gave her an early lead, but Lee used her spectacular uneven bars set—the hardest one currently being done in competition—to pull closer.
Lee, an 18-year-old Hmong-American from Minnesota, gutted her way through a nervy beam routine. She nearly came off while executing a wolf turn—basically a seated spin—and basically needed to suction cup her toes to the 4-inch slab of wood to stay on. Her score of 13.833 moved her in front of Andrade heading into the floor exercise.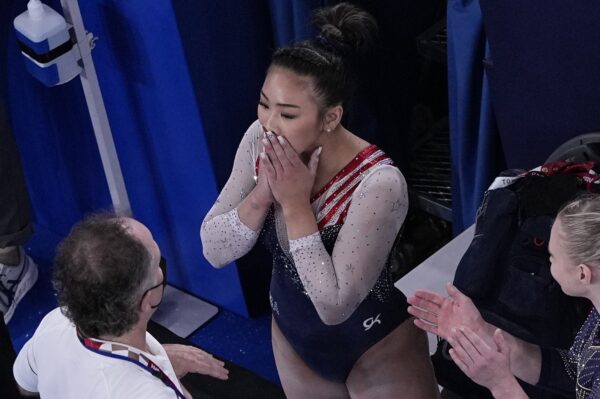 Going first, Lee opted for a routine with three tumbling passes instead of four, hoping better execution would override any potential tenths she gave up by not doing a fourth pass. Her 13.700 was steady, but it left an opening for Andrade.
The 21-year-old Brazilian, two years removed from a third surgery to repair a torn ACL in her knee, had the best floor score of the contenders during qualifying. Yet she bounded out of bounds with both feet at the end of her first tumbling pass. And her right foot stepped off the white mat and onto the surrounding blue carpet.
Needing a 13.802 to win, she received a 13.666 instead, extending the U.S. dominance in one of the marquee events at the Olympics. The Americans have won each of the Olympic finals since Carly Patterson triumphed at the 2004 Athens Games.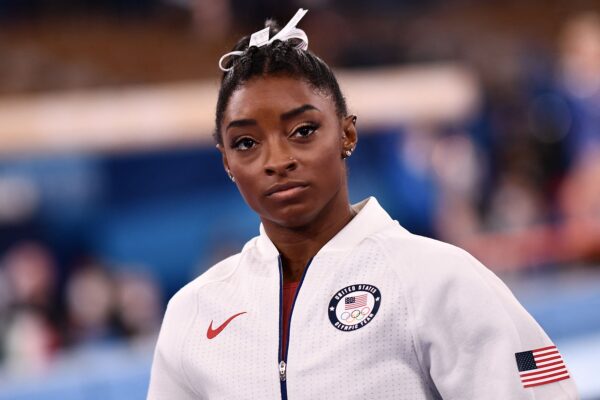 Biles was heavily favored to extend that streak before opting out. Lee, who dealt with ankle injuries so painful she was limping at times during the U.S. championships last month, stepped into the void. She actually beat Biles during the second night of the Olympic Trials at the end of June.
A month later, she found herself standing atop the podium as one of the new faces of the sport.
Jade Carey, who replaced Biles in the finals for the U.S. team, finished ninth.