There are those perfect days in early spring when everything feels fresh and new. Spring fever is in the air, and instead of tidying up closets and cleaning out the garage, my favorite seasonal activity is to invite a group of girlfriends for lunch in the garden.
Girlfriends and soul sisters are an integral part of my life. I rely on their sage advice, and together we laugh and cry with total abandon—and dish out opinions as often as possible. Inviting them for a long, leisurely lunch at home, to share stories and accomplishments, is a way to bond and create lasting camaraderie.
I have created a menu that can be made ahead of time, so I don't miss a bit of gossip; that is flavorful but light and low in calories, to look after my girlfriends' well-being; and that has a great surprise at the end, to finish the meal on a happy note.
Parsley salad—yes, parsley—is delicious and refreshing. I mix both flat and curly parsley to give the salad color and texture, then add diced tomatoes for sweetness and tang, scallions for a little crunch, and walnuts for earthiness. I learned to make this salad on my last visit to Istanbul, and its simple flavors bring me back to those wondrous days. A basic dressing of oil, vinegar, and lemon brings all the flavors together.
Rinse the parsley well in a colander to remove any dirt. Only use the soft leaves for the salad, saving the stems to enhance broths or soups.
I find parsley incredibly useful in the kitchen. Not only is it great for garnishes and to decorate dishes and platters, I often use bunches as inexpensive and charming table decor, adding greenery and whimsy when my favorite flowers aren't available.
Shrimp with chickpeas is a classic Spanish tapa, made with a few simple ingredients that together create a sublime dish. I look for large shrimp (13 to 15 count), peel them, and quickly sauté them in garlic-infused oil. I toss them with the chickpeas, to coat everything with the garlic oil, then sprinkle the golden, crisped-up garlic on top just before serving, to maintain its crunch.
On another occasion, add a few sprinkles of red pepper flakes and a handful of chopped parsley, and serve the shrimp and chickpea mixture on a toasted baguette; it's a great first course.
Finally, the pièce de résistance is a light and airy flourless chocolate cake. Made with eggs, ground almonds and hazelnuts, and chocolate, of course, but no flour, butter, or dairy, it's certainly on the lighter side of chocolate desserts—and I keep reading that dark chocolate is so good for you, anyway! If you can't find already ground almonds or hazelnuts, you can grind your own using a coffee grinder or high-powered blender.
The cake can be served with whipped cream or coffee ice cream, but frankly, it's perfect as is, so that you can linger at the table just a little longer.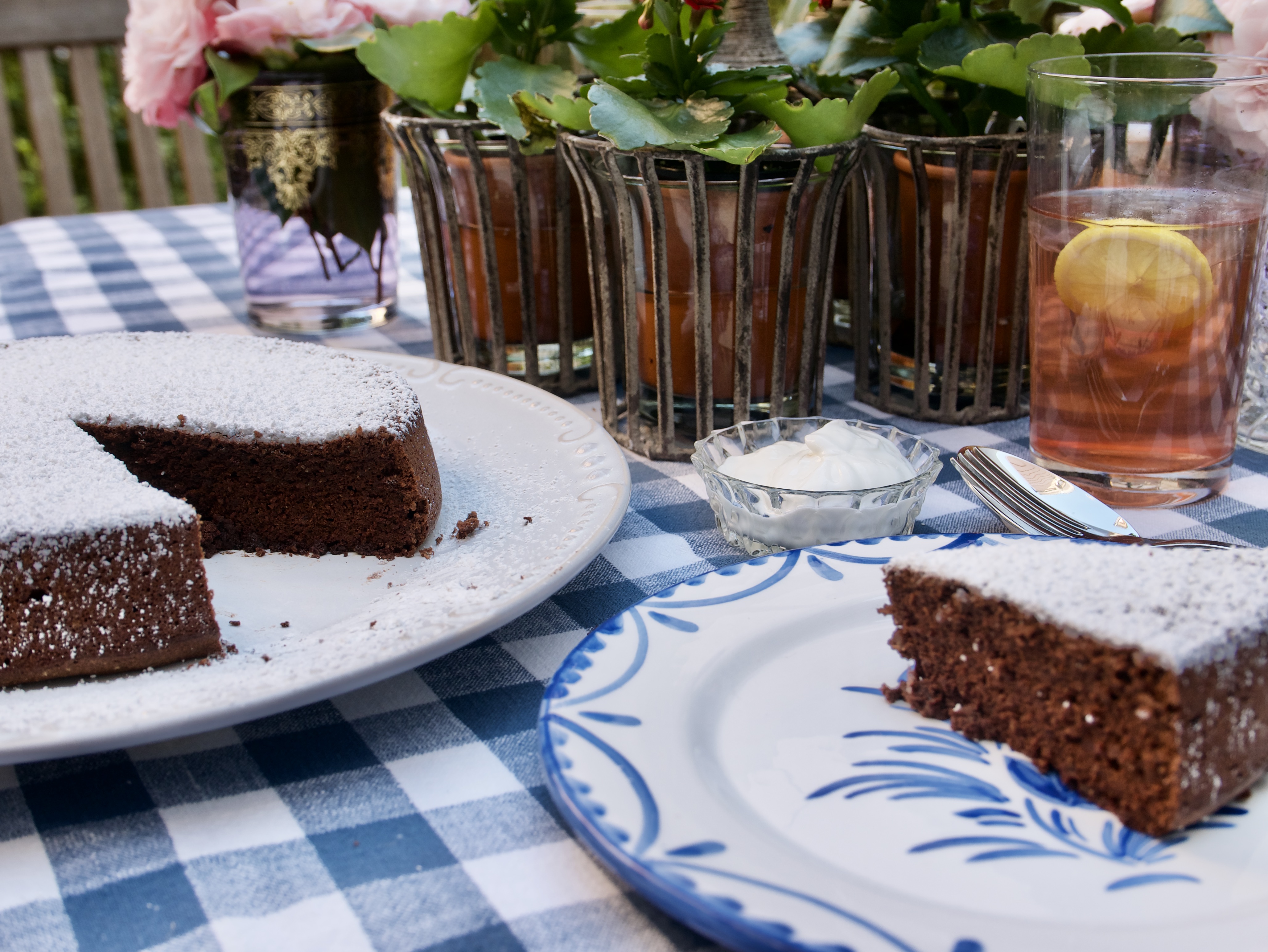 Setting the Table
Here in Charleston, South Carolina, the weather is just magical at this time of year, so I am setting the table in the garden, surrounded by camellias. I place hats on the back of the chairs in case we need shade from the sun, and use garden accents to decorate the table.
On the table, glasses with colorful hibiscus tea and a carafe of wine become part of the decor, together with flowers from the garden. To limit trips back and forth from the kitchen, I am plating this lunch and have organized a side table for the dessert, plates, and wine. Spring is here, and I want to celebrate every second of it.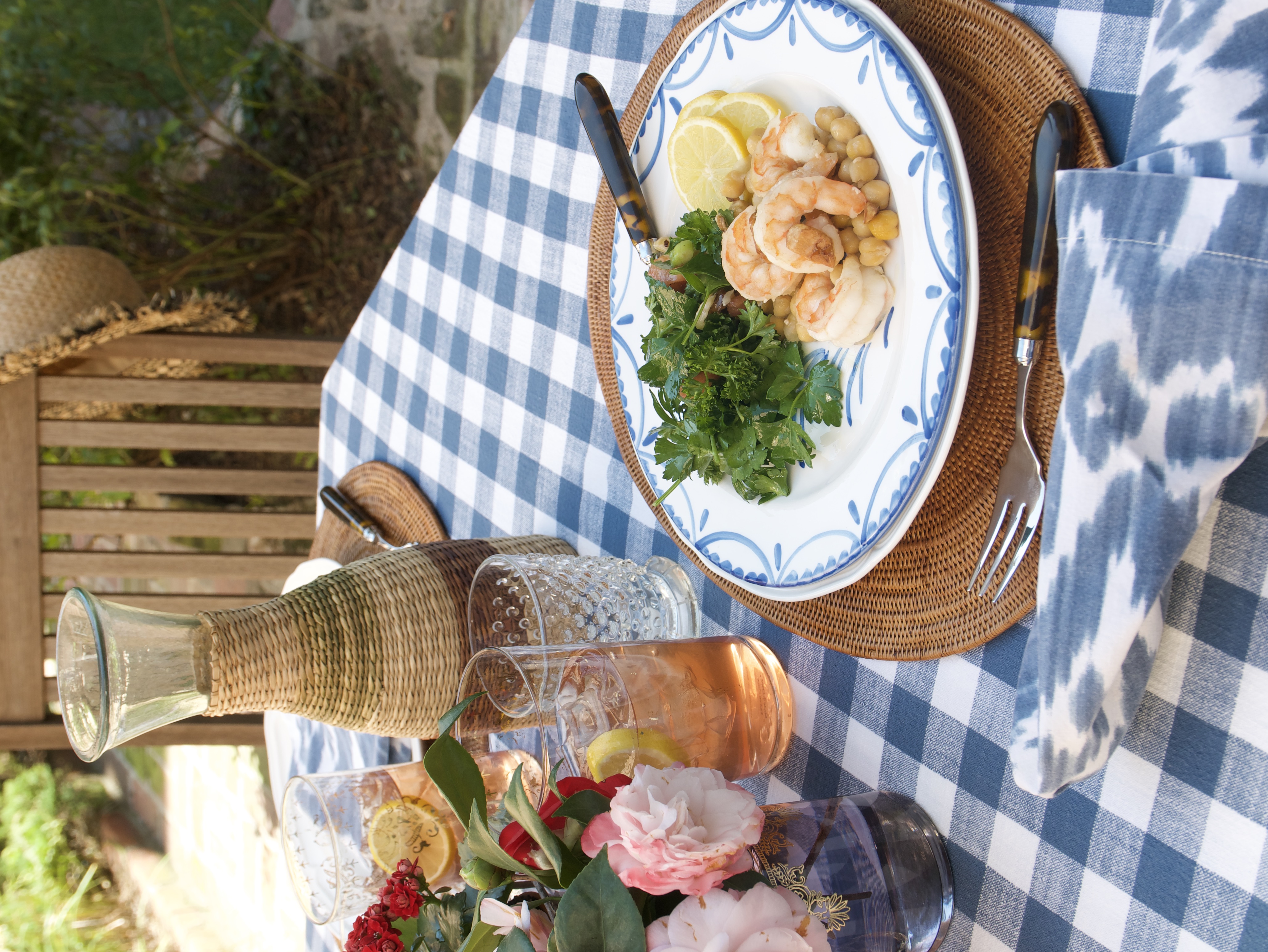 RECIPE: Parsley and Walnut Salad
RECIPE: Shrimp and Chickpeas With Crispy Garlic
RECIPE: Flourless Chocolate Almond-Hazelnut Cake
Victoria de la Maza is an award-winning cookbook author, columnist, and international TV host. Passionate about great food, she combines American traditions with her European heritage to create classic-with-a-twist recipes and ideas for stylish entertaining at home.