COVID Grant Helps Popular Sunshine Coast NightQuarter Live Music Venue Survive Pandemic
The Queensland government has announced a new round of economic support for the state's live music industry, which one popular Sunshine Coast venue operator described as being "on its knees" due to COVID-19 lockdowns and restrictions.
Australia's live music industry and the arts sector has been among the hardest hit by various state government pandemic response measures, but Queensland Arts Minister Leanne Enoch said that her state was committed to helping sustain the sector until things get better.
"Live music venues play a vital role in creating jobs and opportunities for artists, technicians, venue staff, and related small businesses, and this nearly $1 million investment acknowledges that, with more outcomes to be known in the coming weeks," Enoch said in a media release on Aug. 13.
Enoch said the Queensland government had worked closely with the live music sector, including peak body, QMusic, and had already provided $1.8 million for 30 live music venues across Queensland.
Popular Sunshine Coast live music and entertainment venue NightQuarter has already been forced to cancel and refund several sold-out events worth over $2 million due to COVID-19 outbreaks and lockdowns.
"That money goes directly into the pockets of the music industry," Michelle Christoe, whose business operates NightQuarter, told The Epoch Times.
NightQuarter, which received a grant of $300,000, was among nine venues to receive COVID-19 funding from Round 2 of the Queensland government's Live Music Support Program.
"I'm very grateful to the Queensland government for assisting the music industry with this grant. The industry's on its knees, and needs all the help it can get," Christoe said.
The constant rescheduling and cancellations of paid-for events had not only impacted musicians and artists, she said, but also the confidence of customers who don't know if the shows they buy tickets for would be cancelled due to a COVID-19 outbreak.
"The impact is that relationship you have with your customers that believe in the bands, believe in the venue, want to buy a ticket, yet their tickets that they purchased, and their bands, keep changing and eventually cancel," Christoe said. "It makes them hesitant to buy tickets. So, it's a difficult market for people in the live music industry."

Border restrictions and lockdowns in Melbourne and Sydney—which have recently endured fresh outbreaks and lockdowns—have meant NightQuarter has had to cancel the next six months worth of shows and reschedule them for next year because they can't bring artists up to Queensland.
The Queensland government's Live Music Support Program grant will provide some assurance for local workers, artists, and musicians connected to the Sunshine Coast venue.
"We've been severely impacted by COVID, and so this money goes towards at least helping us survive through this year, and hopefully, we'll be back open to tours coming back to the Sunshine Coast after Christmas," Christoe said.
The venue has been operating at 23 percent capacity all throughout the pandemic, Christoe said. It employs about 20 local musicians every week who rely on the venue for their bread and butter income, she said.
"We have 70 employees that are direct employees, and the rest are contractors, musicians, stallholders, production, lighting, AV (audiovisual) that are all impacted every time there's a change," she said.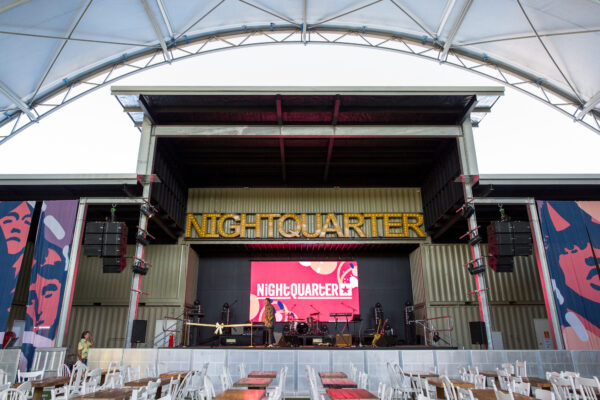 That said, NightQuarter was one of only a few businesses in southeast Queensland to have a full COVID-Safe plan. "We take COVID restrictions seriously. We're constantly changing every week, and it's a lot of work to support it," she said.
NightQuarter is a dynamic venue that includes live music, markets, and even amusement rides.
The venue has worked closely with Queensland Health to ensure they remain compliant with the chief health officer's directives. "I think we've had 33 directives, and each time there's a change in directives, there's a change in terms of our procedures across the whole venue," Christoe said.
She added, "We've got a fantastic team, and it's brought them all together, you know, to work through this whole pandemic."
Despite the challenges, Christoe said she's been "using every creative juice" she has to find a way through, for the sake of the artists, the industry, and the community.
The venue is running family entertainment, markets, and using local acts and musicians, and will even host a movie premiere on Halloween.