Chamath Palihapitiya: Investor's Uyghur Comments Are Even Worse Than You've Heard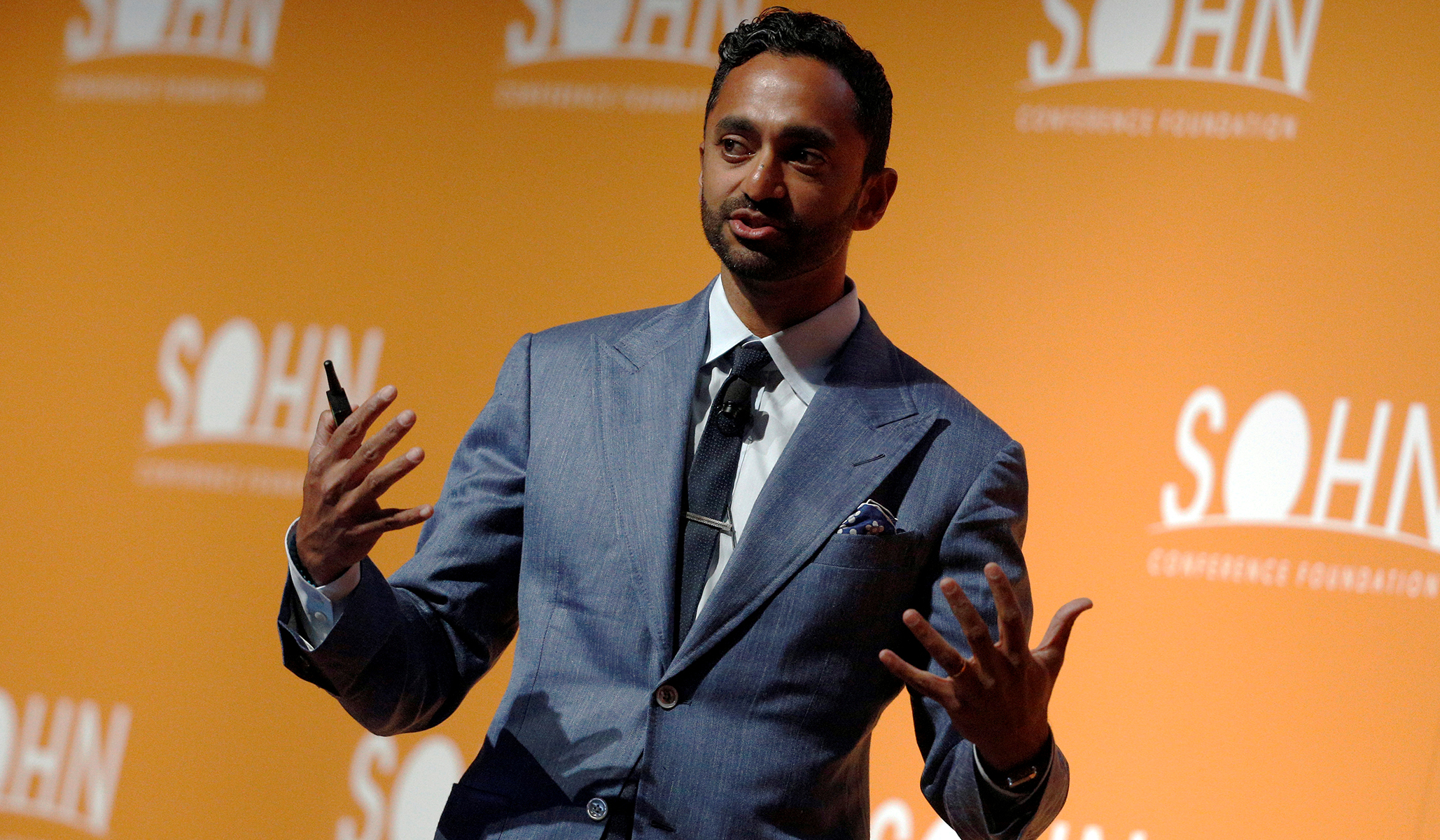 On the menu today: Most folks are focusing on the comment from Chamath Palihapitiya, a Sri Lankan-born Canadian and American venture capitalist, that he doesn't care about the Uyghurs in China. But he went much further, and he said worse things. This wasn't an ambush interview; this was his own podcast with his friends. This wasn't a brief comment taken out of context; this was an impassioned argument that criticizing China's human-rights record was deplorable. This isn't the usual case of a businessman being struck blind when it comes to the abuses of Beijing; this is a man who could afford the consequences of doing the right thing and standing up against a crime against humanity . . . and who deliberately chooses to stand with the victimizer against the victims.
'Morally Virtue-Signaling about Somebody Else's Human-Rights Track Record Is Deplorable'
You're going to hear a lot of hot takes about Chamath Palihapitiya and his comments about the Uyghurs in China this week. Amid the resulting firestorm, Palihapitiya issued a brief statement declaring he recognizes he "came across as lacking empathy . . . My belief is that human rights matter, whether in China, or the United States, or elsewhere. Full stop."
No, that isn't his belief. This is damage-control public relations. He specifically said in this conversation that if he said he cared, he was lying. He said the "hard truth" is that nobody cares — and what a statement like that means is that Chamath Palihapitiya cannot conceive of anyone else genuinely caring about China's human-rights record. He thinks everyone else is virtue-signaling, too, and that he's the only one brave enough to say that China's ongoing effort to exterminate an entire ethnic group doesn't really matter that much.
Let's start with Palihapitiya's remarks, full and in context, made on his own podcast, All-In, on January 15:
Palihapitiya: Nobody cares about it. Nobody cares about what's happening to the Uyghurs, okay? You bring it up because you really care and i think–

Co-host Jason Calacani: What do you mean, nobody cares?

Palihapitiya: The rest of us don't care. I'm just telling you a very hard–

Calacani: You're saying, you variously don't care?

Palihapitiya: I'm telling you a very hard, ugly truth, okay? Of all the things that I care about, yes, it is below my line, okay? Of all the things that I care about, it is below my line.

Calacani: Disappointing.

Co-host David Sacks: I think, people, if you explain to them what's happening to the Uyghurs in China, they care, but it's not top of mind for them. That's not what's on people's minds right now, as they go to their grocery store and the shelves are empty–

Palihapitiya: Sure, that I care about. Yeah, I care about the fact that our economy could turn on a dime if China invades Taiwan, I care about that. I care about climate change. You know, I care about a bunch. I care about America's crippling, and, you know, decrepit health-care infrastructure. But if you're asking me, do I care about a segment of a class of people in another country? Not until we can take care of ourselves, will I prioritize them over us.
Notice this dodge, the notion that it is a binary choice — that caring about human-rights abuses abroad means we cannot care about human rights at home.
Did Americans who objected to Apartheid in South Africa in the 1980s not care about injustices in the United States? Do the people who denounce the Taliban not care about inequality or injustice here in the U.S.? Do the people who call out Vladimir Putin's human-rights abuses not care about racism or poverty within our country?
Why is it that discussions of China's human-rights abuses tend to bring out the "clean up our own house first" rhetoric from wealthy businessmen?
The conversation continues:
Palihapitiya: And I think a lot of people believe that, and I'm sorry if that's a hard truth to hear, but every time I say that I care about the Uyghurs, I'm really just lying if I don't really care. And so, I'd rather not lie to you and tell you the truth — it's not a priority for me.

Calacani: And my response to that is I think it's a sad state of affairs, when human rights as a concept globally, you know, falls beneath tactical and strategic issues that we have to have.

Palihapitiya: That's another luxury belief! That's another luxury belief!

Calacani: I don't believe believing in the human declaration of human rights that Eleanor Roosevelt is—

Palihapitiya: It's a luxury belief!

Calacani: I don't think it's a luxury belief to believe that all humans should have a basic set of human rights.

Palihapitiya: I think it's a luxury belief, and the reason I think it's a luxury belief is we don't do enough domestically to actually express that view in real tangible ways. So, until we actually clean up our own house, the idea that we step outside of our borders with, you know, with us sort of like, morally virtue-signaling about somebody else's human-rights track record, is deplorable.
Notice the escalation. It's no longer merely something Palihapitiya doesn't care about; he finds U.S. denunciation of China's human-rights record — or any other country's human-rights record! — "deplorable." (That is a fascinating word to choose, considering recent history.) Palihapitiya is much angrier with the people calling out China's abuses of the Uyghurs than he is with China for actually abusing the Uyghurs:
Calacani: Far from deplorable.

Palihapitiya: Look at the number of black and brown men that are incarcerated for absolutely ridiculous crimes. I don't know if you saw this past week, but there was a person that was released from jail because he couldn't even be protected in jail, because in some of these cells they run these fight clubs inside of Rikers Island that are basically tacitly endorsed by the corrections officers that don't do anything — Hold on, Jason! So, if you want to talk about the human rights of people, I think we have a responsibility to take care of our own backyard first. First. And then we can go and basically morally tell other people how they should be running their own countries.
The New York Times indeed had a report that painted the ugliest of pictures about the conditions and management of New York City's main jail complex on Riker's Island:
In an unusual decision last month, a Manhattan Supreme Court judge ordered the release of one of the men who had been forced to participate in the "fight night" because, she said, the Department of Correction had failed to protect him. The department's inability to manage the jail system as the man awaited trial on robbery charges, Justice April Newbauer said, "was tantamount to deliberate indifference."

The ruling served as an extraordinary rebuke of the Correction Department's leadership, underscoring the dangers faced by detainees and guards alike in a jail system in which slashings and stabbings have surged, and some detainees have been left to fend for themselves. It also could offer a blueprint for others seeking pretrial release amid the disorder that has gripped Rikers Island since the pandemic began in 2020.
The conditions inside Riker's Island are genuinely and indisputably abominable and unworthy of anything calling itself a "justice system." But apparently, in Palihapitiya's mind, conditions inside Riker's Island means that the U.S. cannot denounce concentration camps in China — or, presumably, any human-rights abuses anywhere else in the world. And later in the conversation, Palihapitiya scoffs, "Are you saying the situation with the Uyghurs is the same as the Holocaust?"
Gathering millions of people into work camps and punishing them with "rape, enforced sterilization, torture, imprisonment, persecution, deportation and enforced disappearance" in an effort to wipe them out . . . doesn't sound all that far from the Holocaust:
China's government has committed genocide and crimes against humanity against the Uyghur people, a public tribunal set up by a prominent British human rights lawyer concluded Thursday.

Forced birth control and sterilization policies targeting Uyghurs in China's far western Xinjiang Province were intended to reduce the group's population, the tribunal's chairman, Sir Geoffrey Nice, said after the Uyghur Tribunal, a group of nine lawyers, academics and business people released a 63-page tribunal judgment.
Palihapitiya's net worth is estimated at about $1.2 billion. Palihapitiya is a sponsor and investor in half a dozen SPACs — special purpose acquisition companies — a kind of investment vehicle that allows private companies to go public with less scrutiny from the U.S. Securities and Exchange Commission. Palihapitiya's SPACs have merged with Virgin Galactic and Clover Health.
If Palihapitiya publicly said, "Yes, I care about the Uyghurs and what China is doing to them is deplorable," could those statements damage his businesses and his investments? Absolutely. The Chinese government could well start hindering any business associated with Palihapitiya.
But . . . just how much damage would taking that stand do? Next year, instead of having $1.2 billion, would his net worth be "only" a billion? "Only" $800 million?
With a net worth of $1.2 billion, Palihapitiya is never going to be in a position where he's going to wonder how he's going to pay his rent or mortgage, or how he's going to put food on the table. It would require a spectacularly bad turn of events for Palihapitiya to ever end up in poverty. He is a 45-year-old man who is going to live, at minimum, comfortably for the rest of his days, if not in the lap of luxury.
If a guy like Chamath Palihapitiya can't afford the consequences of standing up for what's right, who can?
Obviously Palihapitiya can afford the consequences of standing up for what's right. He just chooses not to, instead choosing to call standing up to genocide "deplorable."
ADDENDUM: On Wednesday, the Three Martini Lunch podcast will feature its second ever guest — another extremely well-known name, although maybe one you haven't heard in the news in a while. Our aim is to recreate something like our interview with Bob Costas: a wide-ranging, free-wheeling exploration of several issues, allowing our guest to lay out where he may have been misconstrued — and hopefully have some laughs along the way.