Cash for Moise Killing Came From South Florida Man, Cops Claim. He Did Nothing Wrong, Lawyer Says
By Jay Weaver, Kevin G. Hall, Jacqueline Charles, and Antonio Maria Delgado
From Miami Herald
MIAMI—The rule of thumb in any good investigation is to follow the money. For Haitian police investigating the July 7 assassination of their president, the money trail partially runs through a little-known Ecuadorian emigre and a private lender who lives in Broward County.
In the two weeks since the shocking murder of President Jovenel Moise, police in Haiti have repeatedly during news conferences flashed the image of Walter Veintemilla and the name of his company, Worldwide Capital Lending Group. The money for the assassination plot, they've alleged, ran through Veintemilla, a Weston resident, and his Miramar-based firm.
The company's name sounds like it has a global reach. But it basically operates as a private party lender, the kind of company that deals with people who can't easily get a bank loan or who don't want the scrutiny that comes with one. Veintemilla is a loan broker; he gets private investors to lend their money on the promise of a high rate of return and he takes a cut or commission.
His lawyer, Robert Nicholson, this week fielded a range of questions from a reporting team at the Miami Herald, el Nuevo Herald and the McClatchy Washington Bureau, saying that Veintemilla brokered a loan to fund what he believed to be a plan to replace Haiti's president, Moise, with an interim leader in a peaceful transition of power.
"My client had nothing to do with the assassination," said Nicholson, a Fort Lauderdale private attorney and former assistant U.S. attorney. "At no point was there any discussion or suggestion of a plan involving a violent overthrow of the Haitian government or the assassination of the president."
All of Veintemilla's company documents pertaining to loans given to people named in the Haitian investigation have been turned over to U.S. federal agencies, said Nicholson, noting that his client had not been interviewed by U.S. law enforcement as of Tuesday.
Veintemilla, he said, did no more than broker two loans to two South Floridians caught up in the monumental events on the island. They are: Christian Emmanuel Sanon, a Haitian American doctor from Boynton Beach, who has been arrested and is in custody in Haiti, and Doral-based CTU Security and its president, Antonio "Tony" Intriago, a Venezuelan emigre who is on the radar of Haitian and U.S. investigators but is not in custody.
Veintemilla, 53, left Quito, the capital of Ecuador, and settled in the Miami area with his family when he was a boy. His career has been in South Florida's private lending field, mostly in the rough-and-tumble world of mortgage lending. Courts show Veintemilla was involved in at least 10 lawsuits since 2006, eight as a defendant and the other two as a plaintiff trying to evict a tenant.
Beyond private lending, Veintemilla also runs an insurance brokerage business, and had forays into foreign exchange and other businesses, according to records on file with the Florida Division of Corporations.
There is nothing in the public record to suggest that Veintemilla had the financial wherewithal to fund a large military-style operation to topple and kill a sitting president. More than 20 people have been arrested in Haiti, the majority of them Colombian commandos who said they were hired by CTU and were living in Haiti from about May until the assassination of the president. The cost of transporting them, feeding and housing them, along with providing training, would likely have run into the millions of dollars.
In fact, days before the assassination, Sanon phoned a confidante to say that his Colombian bodyguards tried to extort him and abandoned him. Days later they were implicated in the assassination, as was Sanon. A Miami Herald story Sunday revealed that the Haitian president desperately tried to get his security detail to his residence, fearing he would meet the fate that ultimately befell him.
Nicholson, the lawyer for the small-time lender, said his client got tangled up in Haitian affairs after providing a loan for an unspecified amount in July 2020 to Intriago and CTU Security. Through Intriago, Veintemilla later met the charismatic Haitian-American Sanon, an evangelical pastor and doctor in Haiti who dreamed of leading his impoverished island to prosperity.
Sanon envisioned himself as a transitional president of the Caribbean nation and had been circulating a petition with signatures of supporters to replace Moise. A copy of Sanon's proclamation was obtained by the Miami Herald. The signatories include a number of well-known Protestant pastors who deny supporting Sanon's bid.
As it happened, the same signatories are listed on a May letter sent to an acting assistant secretary of state, Julie Chung. The letter supported Sanon's desire to lead a transition in Haiti. State Department officials say neither Chung nor anyone else provided any support for Sanon's aspirations.
The July 2020 loan to Intriago appears to be the connective tissue that brought Veintemilla together with Sanon, now under arrest in Haiti, and the Doral-based Intriago, himself a small-time security trainer and equipment seller who has not been seen nor heard from in public since the first week of July. A spokesperson for the Florida Department of Agriculture confirmed that the agency was investigating Intriago, who had a license to provide security and carry a firearm.
Intriago referred Sanon to Worldwide Capital because the Haitian physician was seeking a loan. This introduction led to multiple meetings in South Florida, said Nicholson, regarding funding strategies for two purposes: infrastructure projects in Haiti and Sanon's political aspirations in Haiti.
Both Veintemilla and Sanon were involved in efforts to help build solar energy and other small power facilities in Haiti, led by a U.S. company, according to Nicholson. The first project was to be in Jacmel, according to a proposed contract obtained by the Herald. That city is important because it is the hometown of another Haitian American in Broward County arrested in Haiti, 35-year-old James Solages.
Until quitting in April, Solages was a maintenance director in Lantana at a ritzy senior-living center. But he had aspirations of becoming the mayor of Jacmel, even running a small charity focused on the coastal city. A photo displayed by Haitian authorities shows Solages present for some of the meetings with Sanon, Veintemilla, and others who listened to his plans for a new Haiti.
Nicholson said that both Veintemilla and Sanon were passionate about helping the Haitian people and bringing infrastructure projects to poor areas of the country lacking power, water, and other basic needs. It was Sanon who brought the infrastructure opportunity in Haiti to Veintemilla's attention, Nicholson said.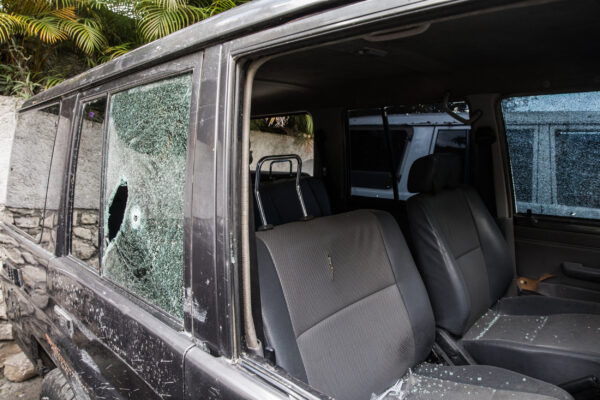 At the same time, Veintemilla also learned more about Sanon's political goal to replace Moise as an interim president and modernize the country. Veintemilla, Intriago, and others met with Sanon on multiple occasions, including meetings this spring: one gathering on May 12 at the Tower Club in Fort Lauderdale, which overlooks the city's skyline and the Atlantic Ocean, and another gathering at an office building in Doral.
Photos taken at the May 12 meeting showing Veintemilla providing a PowerPoint presentation are now used by Haitian police in describing the Weston man as a person of interest.
Sanon's political plan called for a security team to protect him in his quest to replace the Haitian president and to hire Intriago's CTU firm to train the members. Other expenses included the Haitian physician's travel and related costs. The proposed budget was a whopping $860,000.
Calling that amount a "wish list," Nicholson said that Veintemilla's role was to finance most of the expenses by putting together a group of investors. Veintemilla raised $172,000 from those investors, according to his lawyer. Those investors, all from the United States, were not told of the nature of the investment for the loan, he said. Veintemilla did not put in any of his own money, he added.
Separately, Intriago was also supposed to come up with some funding for Sanon's security effort. It is not clear how much money was raised by Intriago or from whom. The overall plan called for Sanon to pay back the lenders and investors with Haitian assets after the physician took over as interim president.
Veintemillia believed, perhaps naively, that the entire political effort led by Sanon was meant to be a peaceful transition of power in Haiti, Nicholson said.
"Neither Worldwide Capital nor Mr. Veintemilla had knowledge of any alleged assassination plot," Nicholson told the Herald. "The discussions that took place with Dr. Sanon all related to seeking to improve the living conditions in Haiti through public works projects and improving the political, safety, and social conditions in Haiti."
©2021 Miami Herald. Visit at miamiherald.com. Distributed by Tribune Content Agency, LLC.
Britain's Pidcock Storms to Cross-Country Gold
IZU, Japan—Britain's Tom Pidcock became the youngest ever Olympic mountain bike champion as he left his rivals in a cloud of dust as he stormed to the gold medal on the Izu course on Monday.
The relentless 21-year-old seized control after four laps of the 4.1km Izu circuit and he was never challenged, riding away to victory by 20 seconds ahead of Swiss Mathias Flueckiger.
So far ahead was the Yorkshireman that he even had time to grab a British union flag as he crossed the finish line in front of an enthusiastic crowd who were permitted in.
"I'm always better when I take control myself. I take my own lines, my own speed. Once we started I was fine, all the nerves kind of went and I concentrated on the race," he said.
"It's nothing like any other race. The Olympics just transcends any sport. You compete and represent your country and everyone in your country is behind you, no matter in what sports they like. It's just national pride, it's unbelievable."
Pidcock, a road racer with Ineos Grenadiers and tipped as a future Grand Tour champion, arrived at the Games having fractured his collarbone in a crash while training last month.
The win completes a remarkable turnaround for the Leeds-born rider who prepared for the climate in a super-heated tent in the spare room of his house at home in England.
"I've trained really hard, I knew I was in great shape but there's always doubt when I haven't performed in a race."
Pre-race favorite Mathieu Van der Poel, who spent several days in the yellow jersey at the recent Tour de France, had his hopes dashed by a first-lap crash as for the second successive day the Dutch cycling team suffered disappointment.
He flew over the handlebars of his bike after a steep landing on one of the bouldered-sections littering the technical and undulating course. Battered and bruised, he resumed and made up some ground but quit on lap five, appearing distraught.
Van der Poel had wrongly-believed there was a ramp beyond the boulder and was later taken to hospital for scans on a hip injury, he said on Twitter.
"He went in super slow and I backed off because I knew that wasn't going to end well," Pidcock, who was right behind the incident, told reporters later.
Flueckiger, one of the in-form riders this season with two World Cup wins, stayed in contact with Pidcock for the opening four laps but a misjudgment on a rocky uphill section meant he had to get off his bike, losing him momentum.
"I did some mistakes in the middle of the race, two times in one lap," he said. "I lost the front wheel and then I had to go off the bike and then lost traction in the steep climb and had to walk again, lost another six or seven seconds."
Spain's David Valero Serrano edged out defending champion Nino Schurter for the bronze medal. The Swiss veteran failed to win a medal in the event for the first time in four Olympics.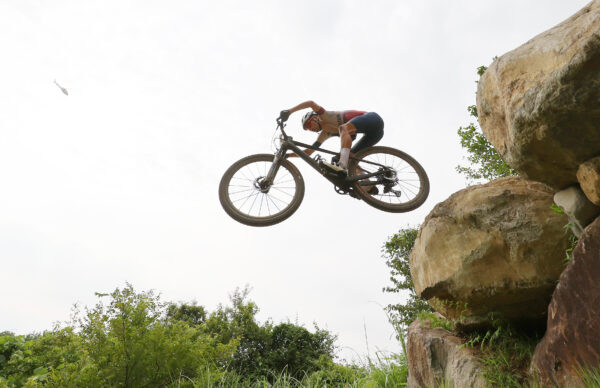 Pidcock had tailored his road season specifically with the Olympic cross-country race in mind but the broken collarbone had cast doubt over his chances of adding to the world under 23 title he claimed last year in the discipline.
But there was no stopping him on Monday as he underlined his credentials as one of the most exciting talents in cycling.
"I have high expectations on myself but I delivered," Pidcock, Britain's first Olympic mountain bike medallist, said.
Asked what the future now holds and whether he can match the feats of Van der Poel on the road, he said: "I've got time on my side, I'm in no rush. I'm Olympic champion so I'm clearly not doing much wrong. I will enjoy this first."
By Martyn Herman
Absent Help From Authorities, Locals Take Relief Work Into Their Own Hands in Flood-Hit Central China
Two days and two nights. That was how long it took for more than 400 villagers in a flooded Chinese town to raise the walls of a dam to protect their homes from rising waters. It took just a few hours for officials to tear it down.
When the villagers protested, the authorities pepper-sprayed them.
With the fortifications dismantled, the flood currents swept the village unimpeded, submerging crops in water about 3.3 feet deep while causing a power and water outage.
Villager Wang Yan, using a pseudonym, cried as she recounted to The Epoch Times the desperate sight in her hometown of Qimen in Henan, the province in central China now inundated by floods.
"What I told you are all facts, but this content can't be posted on Douyin," she said in an interview, referring to the Chinese name of the video-sharing app TikTok.
Authorities have also been releasing additional water from upstream, according to Wang and fellow villager Li Liang, also using a pseudonym, who described the village's current state as a lone island.
"We villagers' only hope is for the upstream to discharge less water and not to act too fast, so that the downstream has time to drain some water away," Wang said, noting that otherwise, "we are doomed."
To date, the flooding has affected about 12.9 million people, or roughly one in nine people in the province, and destroyed around 267,000 acres of crops, according to official data. The authorities' disaster response, or lack thereof, has compounded their woes, according to Wang and many others.
Donation Challenges
The government-backed Red Cross Society of China, not affiliated with the International Committee of the Red Cross, has also faced accusations that it lacks transparency.
Qiu Kai, a businessman in Zhengzhou, capital and the largest city in Henan, initially saw that Red Cross had chosen to send flood relief packages on behalf of a coalition of businesses. After talking with a manager at the Henan Red Cross, he donated 1 million yuan ($154,254) under the agreement that he would have control over how the money was spent. But after the money was sent, all he received was a receipt from the organization.
Frustrated, he asked the charity's manager for a refund, and was told they were "powerless" and "can't handle it." "Perhaps next year," the person told Qiu. He canceled the donation account in frustration.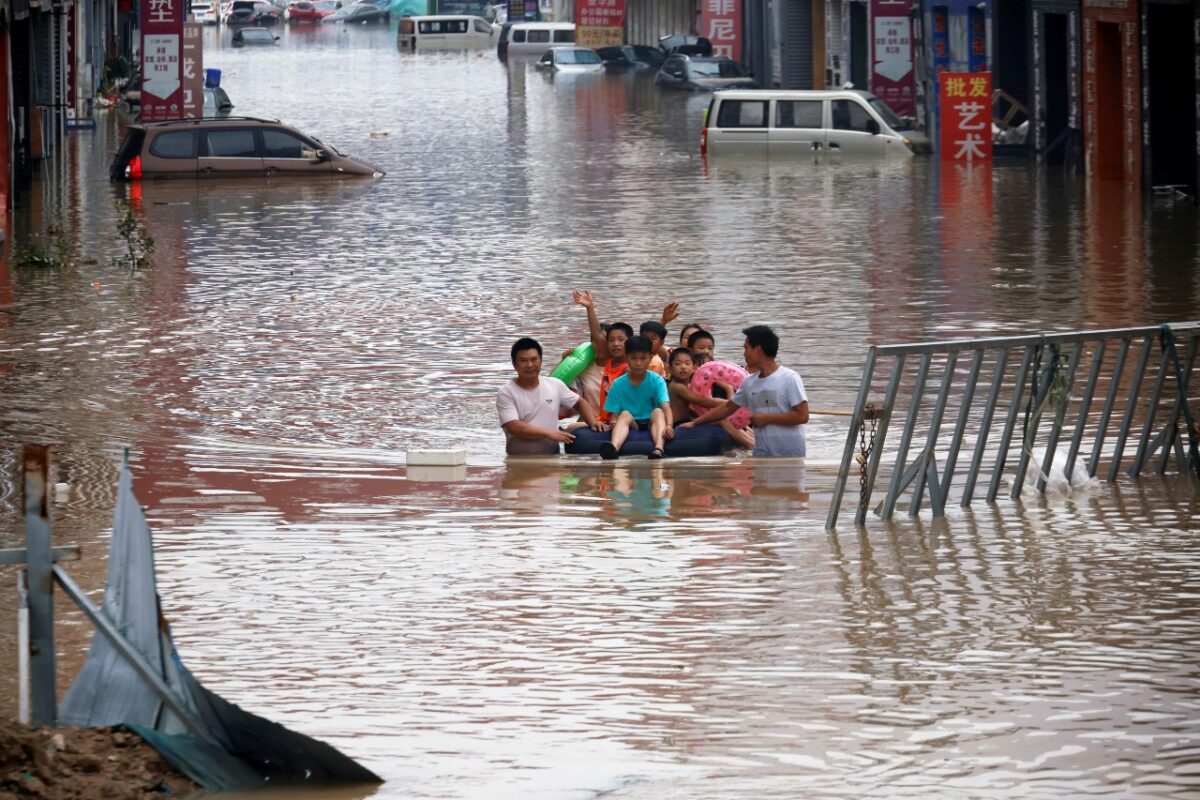 The Chinese Red Cross has been plagued with credibility issues for years. It has struggled to win back trust ever since 2008, when it mismanaged donation funds destined for the survivors of an 8.0-magnitude earthquake in Sichuan Province of southeastern China.
Qiu has purchased boats, water pumps, life jackets, buoys, and ropes totaling more than 50,000 yuan ($7,712), which he had planned to donate to local authorities, he said. But he's been turned away each time.
"No one was there to receive the goods," he told The Epoch Times. "There was no one to receive the items nor sign their signature."
Qiu spent seven hours at one emergency management center alone.
He ended up calling the city's mayor and other officials and was rebuffed. One of the officials told him that the city was "relatively stable now and you can send these to the places that need them more."
"I talked until I was exhausted," Qiu said.
Much of the relief packages are now sitting in a warehouse.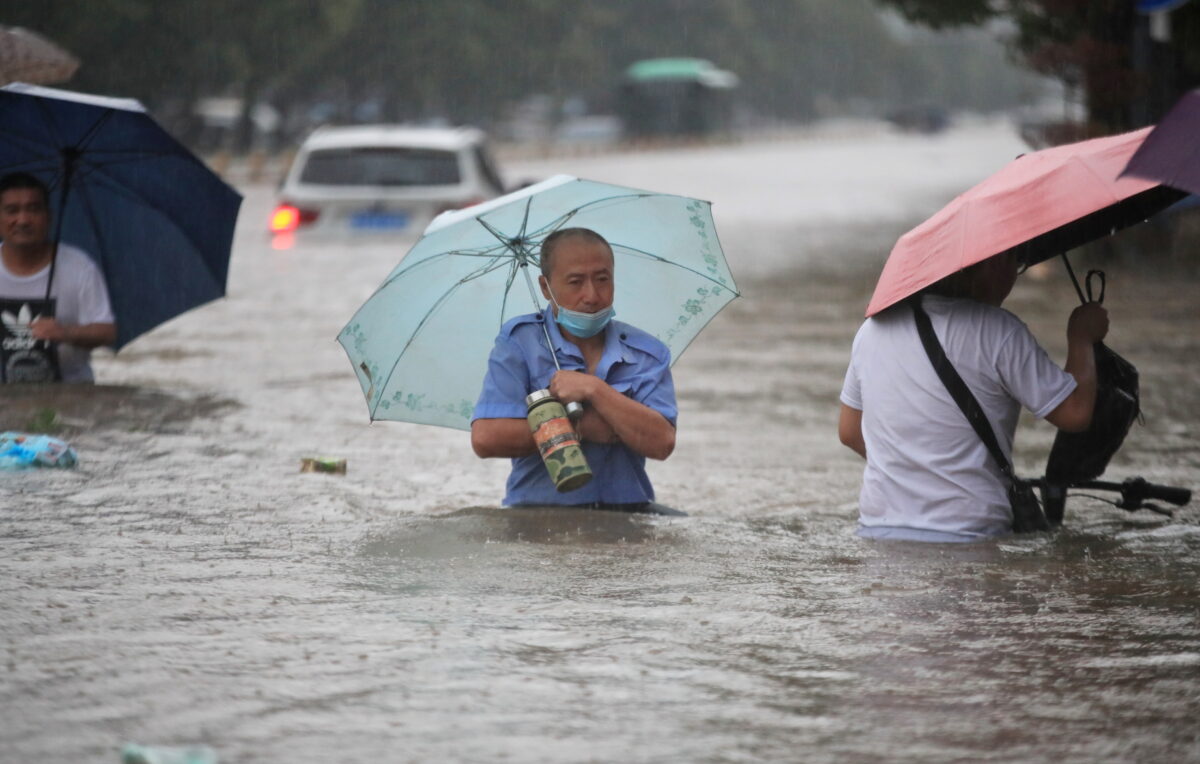 Help From Beijing 'Nowhere in sight'
Dozens of civilian-initiated rescue teams have arrived in the province to offer help.
Zhang Ye, also using a pseudonym, is serving as one member of a rescue team from the neighboring province Hunan. Zhang said that they go to every flood-ravaged home to see if there's anyone inside. They then take the residents to a safer area where local volunteers take over.
The authorities were "nowhere in sight" as they carried out rescue work, he told The Epoch Times.
Villagers have greeted them with enthusiasm, Zhang said, noting that local children have acted as their guide.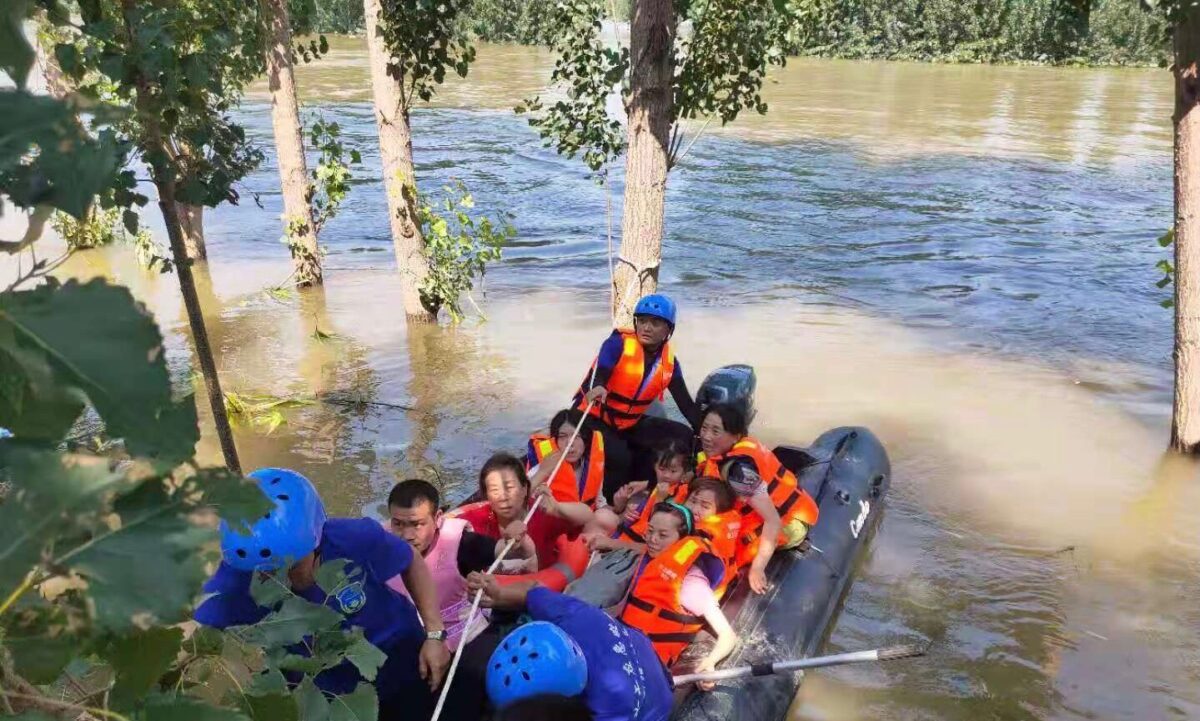 With the villagers' help, his team rescued around 236 stranded people in one village on July 25—some from on top of their roofs.
"People give us directions, we just run to wherever is needed," Zhang said.
On Saturday night, Zhang's group had to evacuate from their lodging organized by local residents because of the incoming floodwater.
They moved to a gas station located at the highest point of the village. The local residents sent them fresh eggs and blankets.
"The villagers didn't want us to leave, and we told them we won't," Zhang recalled.
They fell into a short sleep. When they got up at around 4 a.m., everyone had a blanket over them—the work of the appreciative villagers.
It showed how "indispensable" their labor was, Zhang said, noting that they were just "doing what they can."
Gu Xiaohua contributed to this report.
Biden: American Combat Troops Will Leave Iraq This Year
President Joe Biden said on July 26 that American combat troops will leave Iraq sometime in 2021, coming weeks after troops departed Afghanistan, although he added that some U.S. personnel would continue to work with Iraqi security forces in their fight against the ISIS terrorist group.
"We are not going to be, by the end of the year, in a combat mission," Biden told Iraqi Prime Minister Mustafa al-Kadhimi during a White House meeting. American forces, however, would "be available to continue to train, to assist, to help and to deal with ISIS."
The president added that the United States is still committed to fighting terrorism in the region.
"We're also committed to our security cooperation," Biden said. Our shared fight against ISIS is critical for the stability of the region and our counterterrorism operation will continue, even as we shift to this new phase we're going to be talking about."
The U.S. military has approximately 2,500 American troops in Iraq as of now. Earlier this year, the Trump administration confirmed that it drew down the number of forces to 2,500 in Iraq.
During a press briefing on July 26, White House press secretary Jen Psaki declined to give details on how many would remain in the country by the end of this year in advisory or training roles.
"We feel this is a natural and next step in these ongoing strategic dialogues and we are moving to a phase not where we are ending our partnership, we are maintaining a presence in Iraq with a different mission," Psaki said. "This is a shift in mission, it is not a removal of our partnership or our presence or our close engagement with Iraqi leaders."
The change in Iraq comes as the United States nearly finished its withdrawal from Afghanistan, despite some experts expressing fears that terrorism could flare again without any military presence. Meanwhile, some officials have warned that Taliban forces have made significant advances in recent weeks as U.S. troops pull out of the country.
During an interview with NPR on July 23, CIA Director William Burns acknowledged the Taliban currently is in the "strongest military position that they've been in since 2001." Afghan security forces who were trained by the United States have the capability to fend them off, he argued.
"The big question it seems to me and to all of my colleagues at CIA and across the intelligence community is whether or not those capabilities can be exercised with the kind of political willpower and unity of leadership that's absolutely essential to resist the Taliban," Burns told NPR.
In 2003, the military under the George W. Bush administration launched an operation in Iraq to topple then-leader Saddam Hussein but remained due to the rise of ISIS, which took over swaths of Syria and Iraq in the midst of the Syrian civil war starting in 2011. All combat operations were ceased in 2010 and most troops left in 2011 but a number of soldiers returned in 2014 to deal with the terrorist group.