Afghanistan Withdrawal: The Biden Administration Knew the Afghan Air Force Would Collapse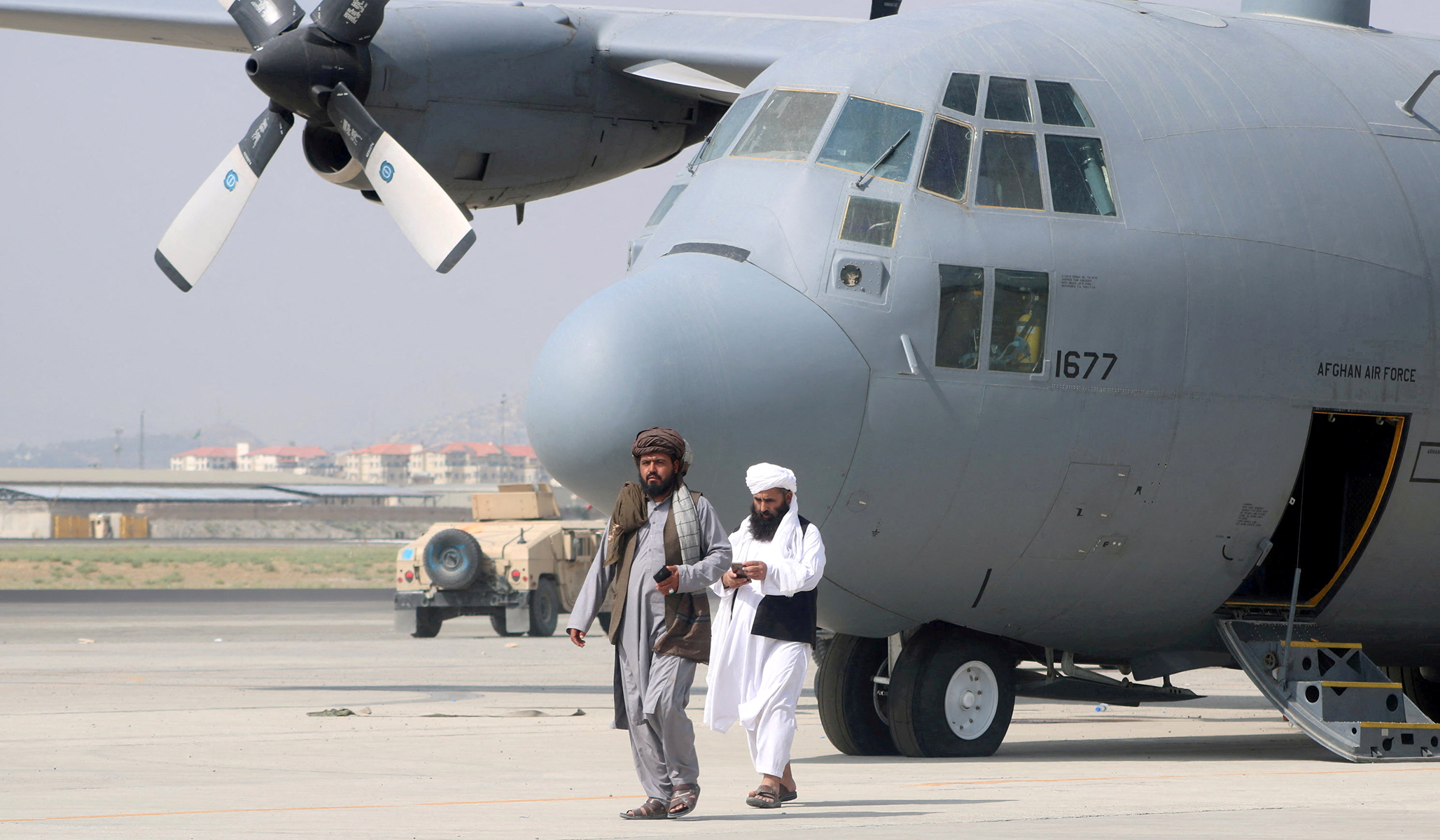 On the menu today: A declassified special-inspector-general report proves that the Pentagon and the Biden administration were warned in January 2021 that Afghanistan's air force did not have the capabilities to survive after a U.S. withdrawal. Without an air force, the Afghan army was destined to collapse; without an army, the Afghan government was destined to collapse. In other words, just about everybody in the American government realized that a Taliban takeover was the most likely scenario . . . except the man at the top. Meanwhile, six months ago, we were told to wait six months to see if Joe Biden knew how to deter Vladimir Putin; and another new study indicates that your genes play a big role in how your body responds to Covid-19.
What the Biden Administration Knew
The report by the Special Inspector General for Afghanistan Reconstruction John Sopko, submitted to the Department of Defense in January 2021, underscores that American authorities had been alerted that Afghanistan's air force did not have the capabilities to survive after a U.S. withdrawal. In particular, the report points to U.S. failure to train Afghan support staff, leaving the air force unable to maintain its aircraft without American contractors.
Six months later, President Biden went before the country and assured Americans that the Afghan military was up to the job of holding off the Taliban: "I trust the capacity of the Afghan military, who is better trained, better equipped, and more re- — more competent in terms of conducting war."
In fact, Biden specifically denied that the intelligence community was warning him about the fragility of the Afghan military and the government it supported:
Q: Mr. President, thank you very much. Your own intelligence community has assessed that the Afghan government will likely collapse.

THE PRESIDENT: That is not true.

Q: Is it — can you please clarify what they have told you about whether that will happen or not?

THE PRESIDENT: That is not true. They did not — they didn't — did not reach that conclusion.
And Biden infamously guaranteed that, "The Taliban is not the South — the North Vietnamese army. They're not — they're not remotely comparable in terms of capability. There's going to be no circumstance where you see people being lifted off the roof of a embassy in the — of the United States from Afghanistan. It is not at all comparable."
We knew Biden's assurances meant nothing. What we now know is that he had been warned by the intelligence community, and in an effort to delay and defer the blame, this special-inspector-general's report was kept under wraps:
The inspector general's office told The Associated Press on Monday that it is rare for SIGAR reports to be classified but when they are, a declassified version is issued by the Pentagon in under two months. The office said it did not know why it took the Defense Department more than a year before declassifying this particular report, or why it did so now, five months after the Taliban took power.
Some people might quote a former secretary of state and ask, "What difference, at this point, does it make?" Jazz Shaw offers some illumination:
Most honest observers have long since concluded that Biden's decision to suddenly pull out of Afghanistan entirely was one of the greater military blunders seen in a generation and we're still paying the price for it today. But many of his supporters still seem to cling to the idea that it was "an honest mistake" and an intelligence failure or whatever. This report deflates such ideas entirely. An office that was positioned to know better warned the Pentagon that a disaster was on the way eight months before the collapse took place. And Joe Biden moved ahead with the plan anyway. As many of us had already suspected, the decision to evacuate from Afghanistan was a political one, not a military one. Biden had promised to end the war in Afghanistan and he didn't want to be seen as failing to live up to that political talking point. And we continue to pay a heavy price for that completely avoidable blunder.
This was not a case of military and intelligence officials being blind and stupid and not recognizing the consequences of a course of action. Military and intelligence officials foresaw the likely consequences and warned the president. And the president chose to ignore them, convinced he knew better. Joe Biden makes a lot of wrong assumptions. And he never, ever seems to learn from his mistakes.
In short, this was not a failure in the sense of the Pentagon, the CIA, and the rest of the intelligence community being unable to assess and anticipate the likely effects of a U.S. withdrawal from Afghanistan. This was an intelligence failure in the sense of what is between the president's ears.
In other easily overlooked news, "There are currently about 80 Americans in Afghanistan who want to leave the country, but evacuation flights have been grounded by the Taliban for about a month, according to a State Department official and two congressional sources familiar with the matter. It is unclear when the flights will resume."
DefenseOne offers an interview with Project Dynamo founder Bryan Stern, who declares that, "What drives me now is there are Americans [in Afghanistan] saying, 'Help me, help me, help me.' And the State Department is saying, 'Fill out your form in triplicate. In January 2022, that seems just really hard to understand."
Private groups are still trying to get Americans out, while Afghanistan deteriorates into the worst humanitarian crisis in the world — an economic collapse, the breakdown of the health-care system and basic services, an unprecedented famine (55 percent of the population is "expected to be in crisis or emergency levels of food insecurity"), the widespread oppression and abuse of women, and the ongoing evil-against-evil fight between the Taliban and ISIS-K.
In his last significant public remarks about Afghanistan, way back on August 31, President Biden pledged:
Let me be clear: We will continue to support the Afghan people through diplomacy, international influence, and humanitarian aid. We'll continue to push for regional diplomacy and engagement to prevent violence and instability. We'll continue to speak out for basic rights of the Afghan people, especially women and girls, as we speak out for women and girls all around the globe. And I've been clear that human rights will be the center of our foreign policy.
Does it look like the Biden administration is continuing to support the Afghan people through diplomacy, international influence, and humanitarian aid? Or does it look like the Biden administration has washed its hands of Afghanistan and moved on to other issues?
Hey, Remember When Joe Biden Was Going to Deter Vladimir Putin?
The Brookings Institution, June 17, 2021: "Did Biden succeed with Putin? Check back in six months. . . . All in all, White House officials and the president should be pleased with the mini-summit in Switzerland and Biden's press conference."
Moscow announced Tuesday it was sending more troops westward, with forces arriving in Belarus, Ukraine's neighbor to the north, to conduct war games that will further strengthen the number of Russian forces along Ukraine's border.

The troop movements, coupled with statements from Moscow that it was unsatisfied with meetings held with U.S., European and NATO officials last week to address its security concerns, have had some officials in Washington fearing the worst.

"We're now at a stage where Russia could at any point launch an attack on Ukraine," White House press secretary Jen Psaki said in a briefing with reporters Tuesday.
So, I'm going to go with no, Biden did not succeed in deterring Putin back in June.
Alas, You Can't Try On a Different Pair of Genes
One of the many problems we've had in discussing Covid-19 since the beginning of the pandemic is how many people extrapolate from their own personal experiences and conclude that that is how the virus will affect everyone else. "I had Covid, it came and went like the sniffles, everybody is overreacting!" "I had long Covid, and I'm still dealing with terrible after-effects months later. Everyone is understating how dangerous this virus us!"
The virus affects different people at different levels of severity — and it doesn't always line up perfectly with the known factors of age, immune-system strength, comorbidities, etc. As Covid-19 tore through nursing homes, it killed many senior citizens — but many other seniors caught it and pulled through. Meanwhile, more than 36,000 Americans in their 40s have suffered "deaths involving Covid-19" according to the CDC.
As discussed a bit in my last novel, some people are genetically better equipped to fight off certain pathogens. For instance, there are small groups of people who are genetically blessed to be either immune, or much less seriously affected, by anthrax and malaria. And we keep learning more about how genetics plays a role in how seriously Covid-19 affects your system:
Polish scientists have found a gene that they say more than doubles the risk of becoming severely ill with COVID-19, a discovery they hope could help doctors identify people who are most at risk from the disease. . . .

The researchers from the Medical University of Bialystok found that the gene was the fourth most important factor determining how seriously a person suffers from COVID-19, after age, weight and gender.

The gene is present in around 14 percent of the Polish population, compared to 8-9 percent in Europe as a whole and 27 percent in India, said Marcin Moniuszko, the professor in charge of the project.
This comes after British scientists identified a separate gene that doubles the risk of lung failure, determining that "Around 60 percent of people with South Asian ancestry carry the high-risk version of the gene."
So, if you're still debating whether to get vaccinated, boosted, etc. maybe a good measuring stick is whether anyone in your family — anyone with whom you share some genes — had a hard time with their Covid-19 infection.
ADDENDA: President Biden holds a formal press conference at the White House at 4 p.m. today, just the second of his presidency. NationalReview.com will host a live-blog.
My bingo card includes "Folks," "My dad used to say," "Partisan obstruction," "Jim Crow relic," "Work closely with our allies," "We're going to get it done," "Everyone out there knows what I'm talking about," "Count the vote!" "Wear a mask," and "Get your shots." The center square is "Come on, man."
Twelve weeks of NRPlus for six dollars? That deal has to be a typo. Grab it before anybody notices!