5 explosive revelations from Dem Sen Bob Menendez's bombshell federal indictment
Federal prosecutors charged Sen. Bob Menendez, D-N.J., and his wife with violating corruption and bribery laws, according to an indictment unsealed in federal court Friday.
According to the indictment, Menendez, who chairs the powerful Senate Foreign Relations Committee, and his wife Nadine Menendez are accused of engaging in a corrupt scheme alongside Fred Daibes, a New Jersey real estate developer; Wael Hana, who runs a halal meat certification business in the state; and businessman Jose Uribe.
The bombshell indictment included sprawling allegations against the senior Democratic senator involving a scheme to aid the Egyptian government, gold bars, money stuffed in envelopes and illicit halal certifications.
In a lengthy statement following the indictment, Menendez denied any wrongdoing and said forces "behind the scenes" are working to silence him and dig his "political grave." He added his behavior laid out in the indictment was all well within the realm of his office's authority.
"Since this investigation was leaked nearly a year ago there has been an active smear campaign of anonymous sources and innuendoes to create an air of impropriety where none exists," he said.
FEDS PROBING IF DEM SEN MENENDEZ OR WIFE ACCEPTED GOLD BARS WORTH HUNDREDS OF THOUSANDS FROM FELON: REPORT
1. Breached official duty in way that 'benefited the Government of Egypt'
The federal indictment alleges that Menendez used his power and influence serving in the U.S. Senate to enter into the scheme which ultimately benefited the Egyptian government. It stated that the lawmaker and his wife accepted hundreds of thousands of dollars in bribes "to seek to protect and enrich" Daibes, Hana and Uribe.
The bribes, the indictment continued, included cash, gold bars, home mortgage payments, compensation for no-show jobs, a luxury vehicle and "other things of value."
DOJ WEIGHING POTENTIAL CHARGES AGAINST BOB MENENDEZ FOLLOWING CRIMINAL PROBE INTO GIFTS TO HIS WIFE: REPORT
"Among other actions, Menendez provided sensitive U.S. Government information and took other steps that secretly aided the Government of Egypt," the indictment stated. 
"Menendez also improperly advised and pressured an official at the United States Department of Agriculture for the purpose of protecting a business monopoly granted to Hana by Egypt and used in part to fund the bribes being paid to Menendez through Nadine Menendez," it continued.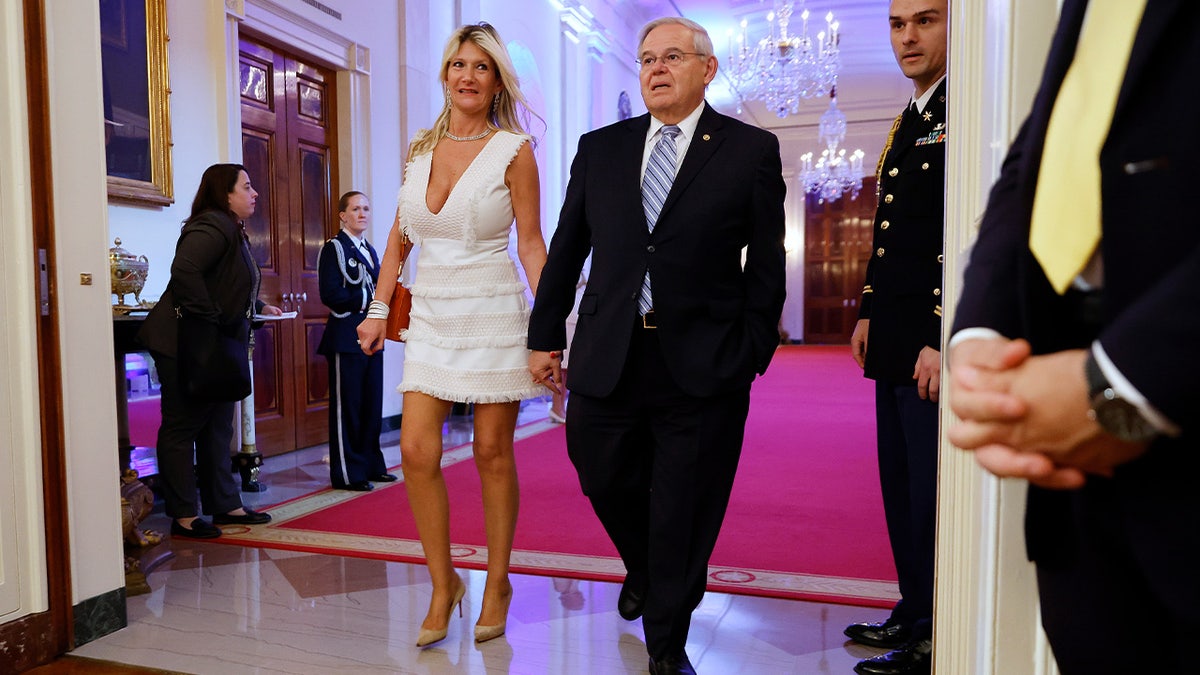 The scheme arose in 2018 after Nadine Menendez, then Arslanian, began dating Menendez and subsequently introduced him to Egyptian intelligence and military officials "for the purpose of establishing and solidifying a corrupt agreement" in which Hana, along with Daibes and Uribe, provided bribes to the Menendez couple.
In exchange, Menendez allegedly breached his official duty to benefit Egypt's government with respect to foreign military sales and foreign military financing.
In his role as the top Democratic member on the Foreign Relations Committee, Menendez was given substantial access to and possessed substantial influence over foreign military sales and foreign military financing to Egypt, among the top recipients of U.S. foreign aid.
DEMOCRAT SEN. BOB MENENDEZ SETS UP DEFENSE FUND AMID CRIMINAL PROBE INTO GIFTS TO HIS WIFE: REPORT
2. Investigators find cash stuffed in envelopes and Menendez's jackets
The indictment further revealed that federal agents conducted a search of Menendez's home last year, when they discovered hidden cash and gold bars.
In June 2022, agents raided Menendez's residence and a safe deposit box belonging to Nadine Menendez. They found more than $480,000 in cash, which was largely stuffed into envelopes and hidden in clothing, closets and a safe. They also discovered more than $70,000 in the senator's wife's safe deposit box.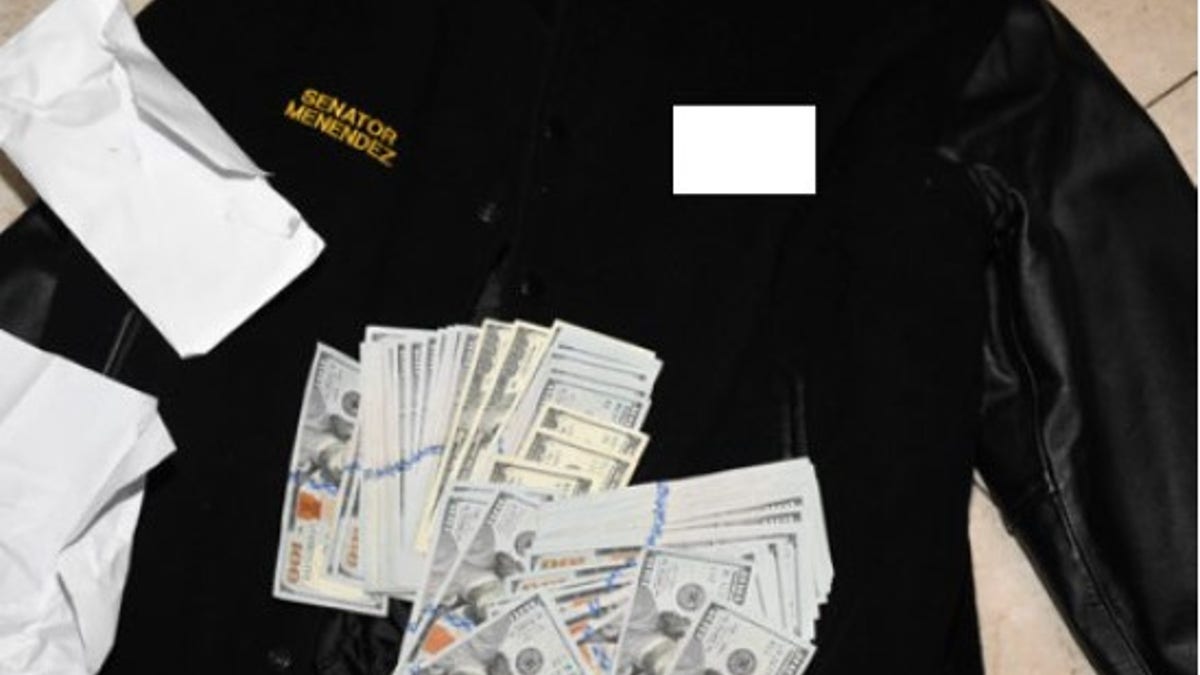 Some of the envelopes containing cash contained DNA belonging to Daibes or his driver.
Cash was also located in jackets with Menendez's name stitched on them. One jacket had Menendez's name stitched next to the insignia for the Congressional Hispanic Caucus, of which he is a member.
ALABAMA DEMOCRATIC LAWMAKER AGREES TO PLEAD GUILTY TO OBSTRUCTION OF JUSTICE, RESIGN FROM STATE HOUSE
"During the same court-authorized search of the home, agents also found home furnishings provided by Hana and Daibes, the luxury vehicle paid for by Uribe parked in the garage, as well as over one hundred thousand dollars' worth of gold bars in the home, which were provided by either Hana or Daibes," the indictment said.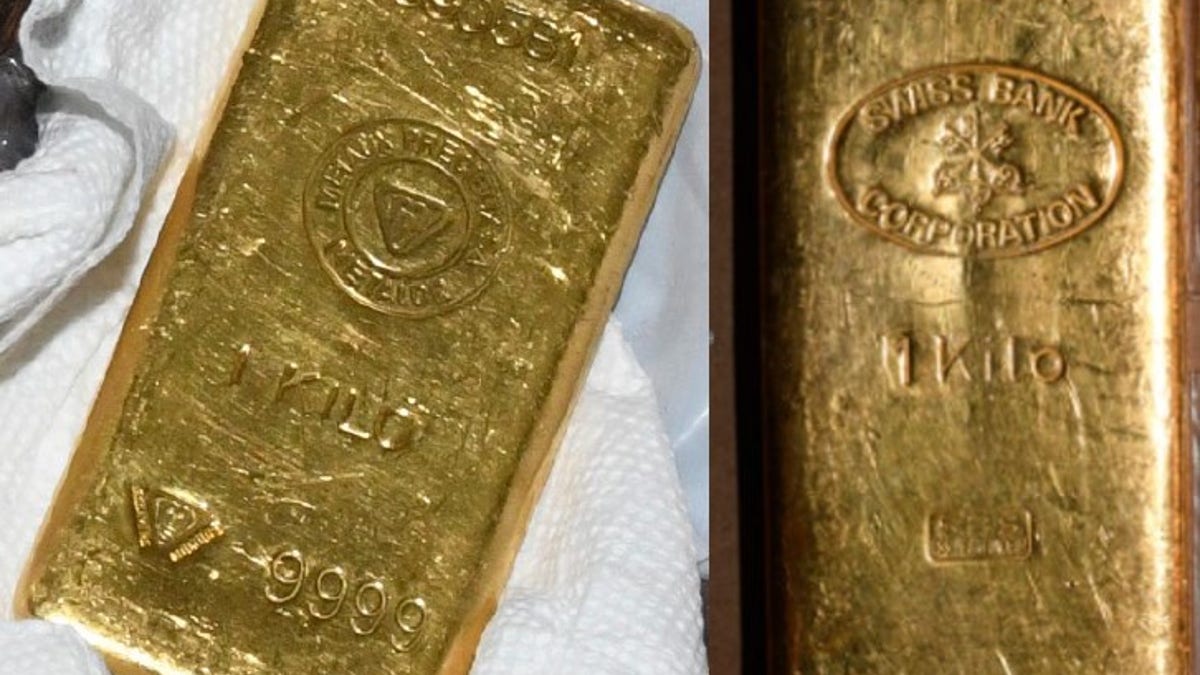 3. Google search for 'kilo of gold price'
Meanwhile, amid the scheme, Menendez, according to the indictment, searched on Google for the "kilo of gold price." The search was an apparent attempt to ascertain how much the gold bars investigators found on his property are worth, according to the indictment. 
Menendez performed the Google search on Jan. 29, 2022, shortly after his wife allegedly exchanged calls with Daibes' driver and later texted him, "Thank you. Christmas in January."
DEM SENATOR CHARGED WITH BRIBERY ONCE CLAIMED TRUMP COULD BE 'COMPROMISED' BY RUSSIAN GOVERNMENT
Menendez's search also came shortly after he allegedly spoke on the phone with an Egyptian government official in what was his first contact with that individual.
Photographs taken by agents who raided Menendez's home showed gold bars emblazoned with the logo of the Swiss Bank Corporation and markings indicating they weigh one kilogram.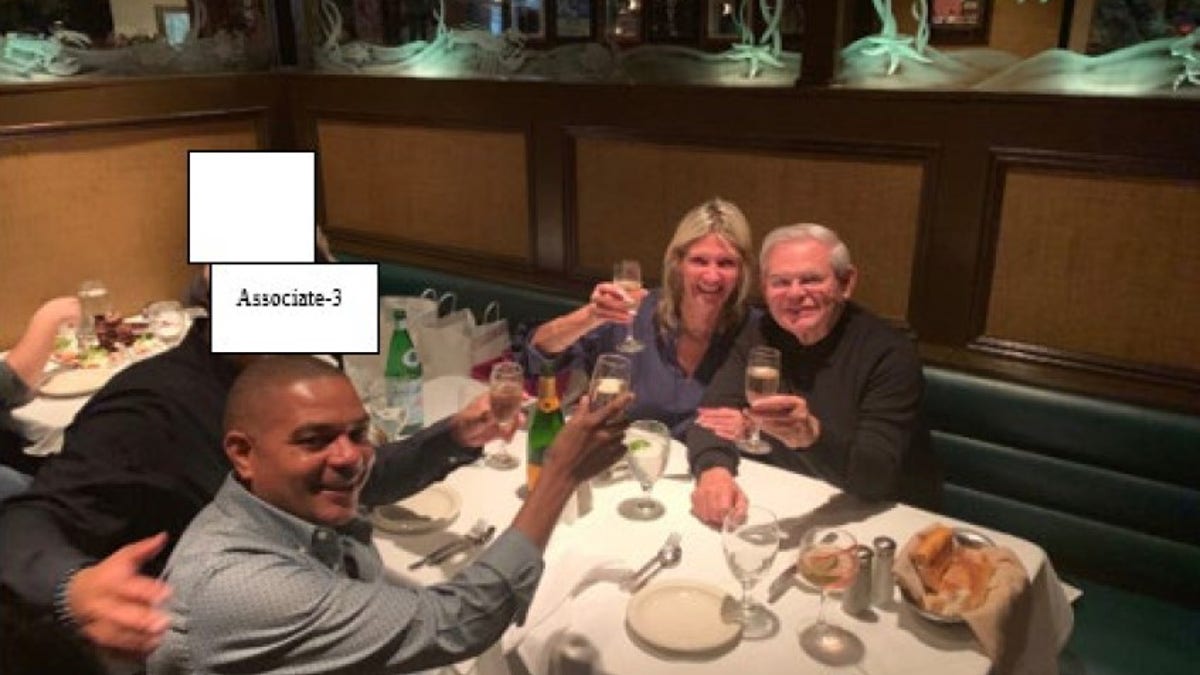 4. Menendez seeks to disrupt federal criminal prosecutions
Menendez attempted to influence a pending federal prosecution of Daibes, who is a New Jersey developer and former bank chairman, from around late 2020 until early 2022, according to the indictment. 
Daibes faced federal bank fraud charges that could have landed him up to a decade in prison for lying about a $1.8 million loan from Mariner's Bank, where he served as chairman.
DEMS EMBROILED IN SCANDAL FOR SUPPORTING MASSIVE SPENDING BILL THAT GAVE LARGE SUMS TO THEIR OWN PRIVATE ORGS
According to the indictment, Menendez recommended now-U.S. Attorney Philip Sellinger for the position after believing he would be sympathetic to Daibes. Sellinger, however, recused himself. 
During the process, Menendez and his wife allegedly received cash, gold bars and furniture for his attempts to help Daibes. 
Last year, New Jersey's U.S. Attorney's Office agreed to let Daibes plead guilty to one count and serve probation. They said Daibes had repaid the loan.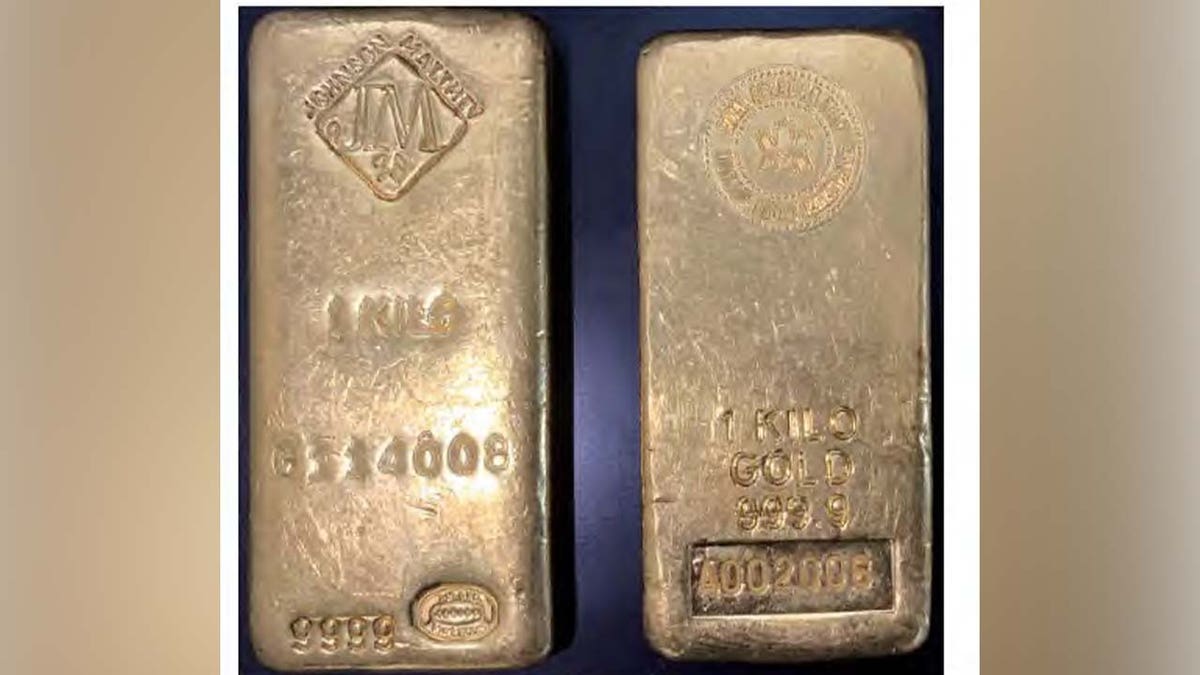 5. Menendez allegedly receives luxury car for disrupting criminal case
Two defendants within the indictment, Hana and Uribe, allegedly helped purchase a Mercedes-Benz C-300 convertible valued at over $60,000 for Menendez and his wife.
Menendez had agreed to interfere in a New Jersey state criminal prosecution dealing with an associate of Uribe, who faced insurance fraud charges relating to a trucking company and an employee of Uribe, according to the indictment.  
DEMOCRAT IN VA RACE SAYS 'UNQUALIFIED' WHITES HAVE HIGH-PAYING JOBS THAT BLACK PEOPLE NEED 'A PHD' TO GET
Around this time, Menendez's wife had a car accident that left her without a vehicle. She texted Hana about her lack of a car. They agreed that Menendez would then intercede in exchange for a car, according to the indictment.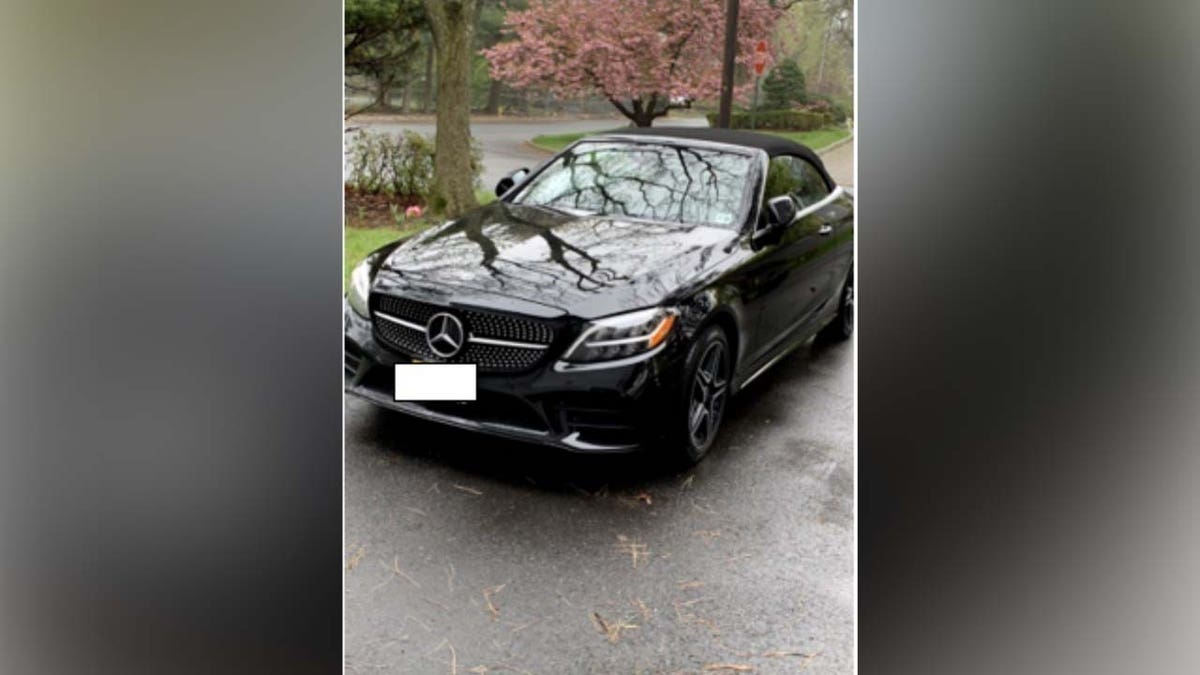 Menendez allegedly contacted a senior state prosecutor in New Jersey's attorney general's office, attempting "through advice and pressure" to cause the individual to resolve the issues favorably for Uribe's associates. 
Uribe later allegedly met Menendez's wife in a restaurant parking lot and supplied her with $15,000 in cash. The following day, Menendez's wife made a $15,000 down payment on the Mercedes with a combination of cash, a credit card and checks. 
"Congratulations mon amour de la vie, we are the proud owners of a 2019 Mercedes," Menendez's wife allegedly texted him after she acquired the vehicle. 
His wife later texted him a picture of the new car, the indictment said.